How to Paint a Lavender Field in Soft Pastel
Hello and welcome to Monet Cafe. In today's lesson I will share a painting of a lavender field that I have titled, "Lavender Forever", along with lots of instruction and product information. I will also be sharing with you a new blending technique using alcohol and pastel blenders.
The reference image for this painting is from Unsplash.com, (a great resource for copyright-free images) and I'll include a link below.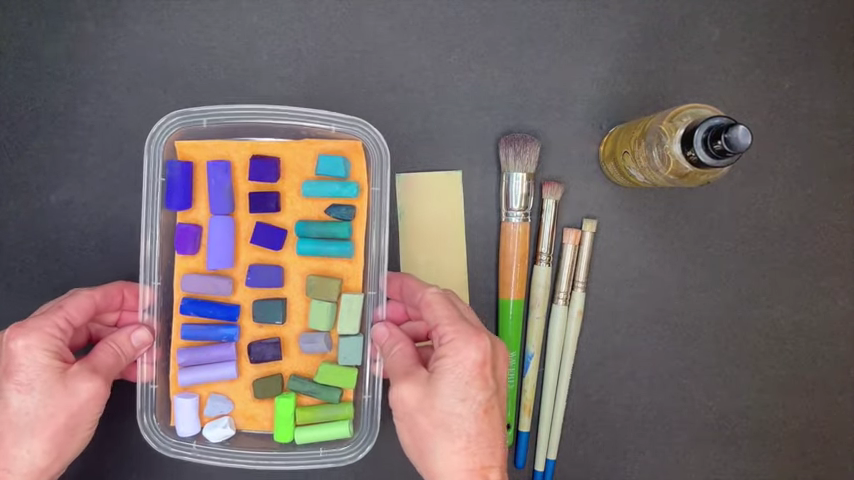 This is my general palette to begin and I add a few more selections as I paint. I'm working with a variety of pastel brands, including Terry Ludwigs (the pastels that are more rectangular), Mount Visions (the large round purple pastels) Rembrandt micro sets (the smaller round pastels). Some of my very first pastels were Rembrandts. They are great for beginners and a little less expensive, than other professional pastels. Here is a link to my product review of Rembrandt Micro Sets:Product Review Micro Sets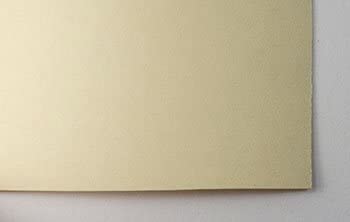 I'm working with Fisher 400 Sanded Pastel Paper. It's almost identical to UART paper. Both are water-friendly. The Fisher, on the other hand, does not warp as much, which is fantastic. I purchase my Fisher 400 sanded papers from www.ProArtPanels.com .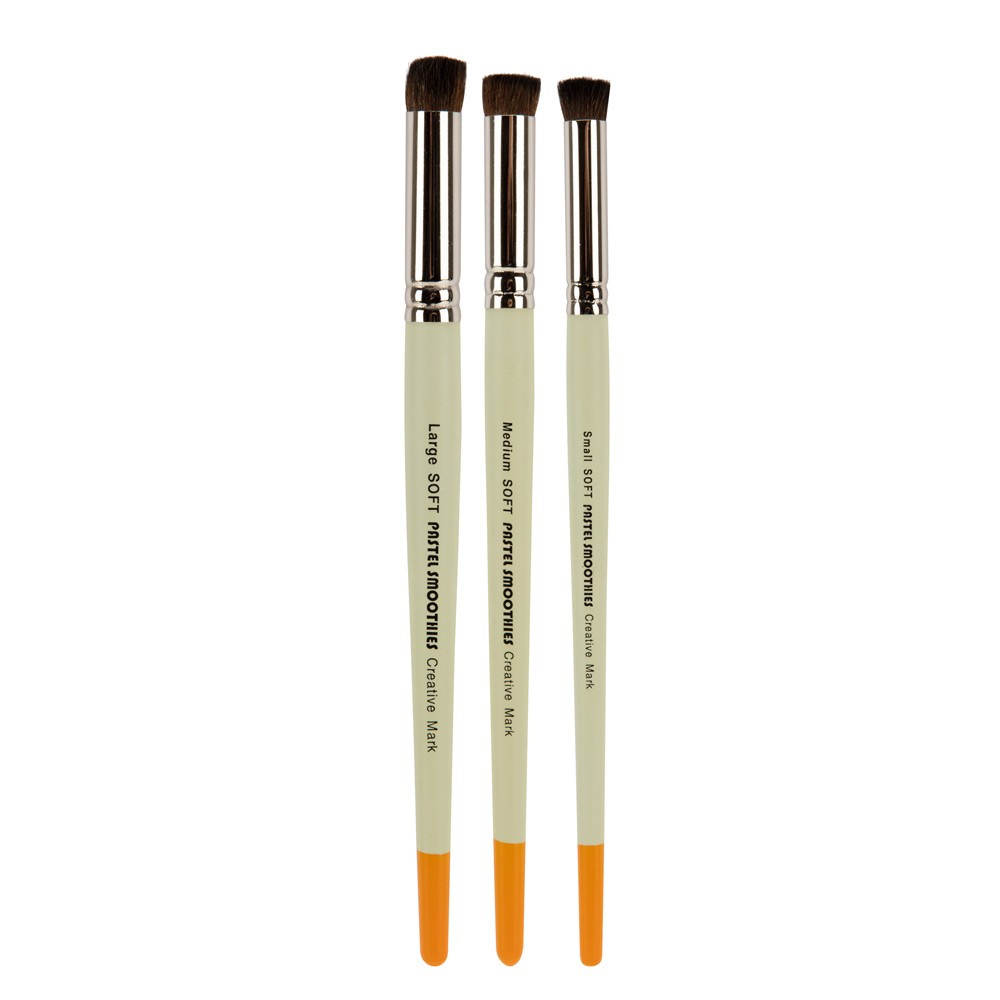 I have had these pastel blenders, called "pastel smoothies", for a long time, but never really used them. You could also use a "Stencil Brush" for this blending technique. Here is a link for these on Amazon: Pastel Smoothies
I will use alcohol, the kind you can buy in any drugstore, to mist over the painting using a spray bottle that has a fine mist. I repurposed a bottle of body spray that worked great. I use 70% alcohol. You could also use plain water for this technique as well.... alcohol just dries faster.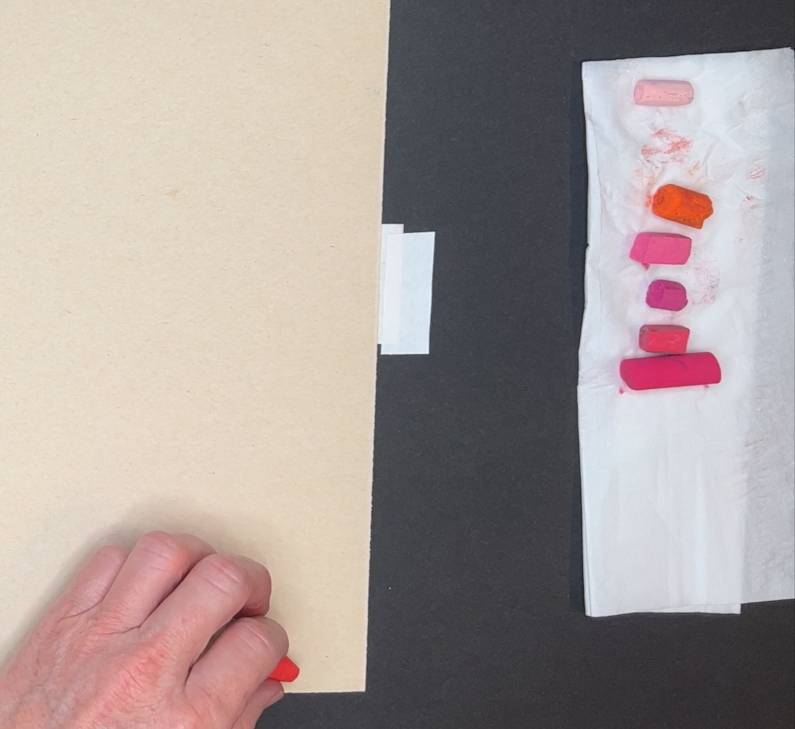 Let's get started with the underpainting and the new blending technique.
The colors I've chosen are warm reds, oranges and pinks. These warm tones will make a perfect underlying color for the cool blues, purples and greens in the reference image. When I first started painting, it seemed strange to me to put down an underpainting that was such a different color. In time, I learned that using a color that is opposite on the color wheel from the main colors in your reference is a great way to choose your underpainting colors. This is what's called a complementary color.
Because I am using such warm tones for the underpainting, all of the cooler colors will stand out and pop as a result.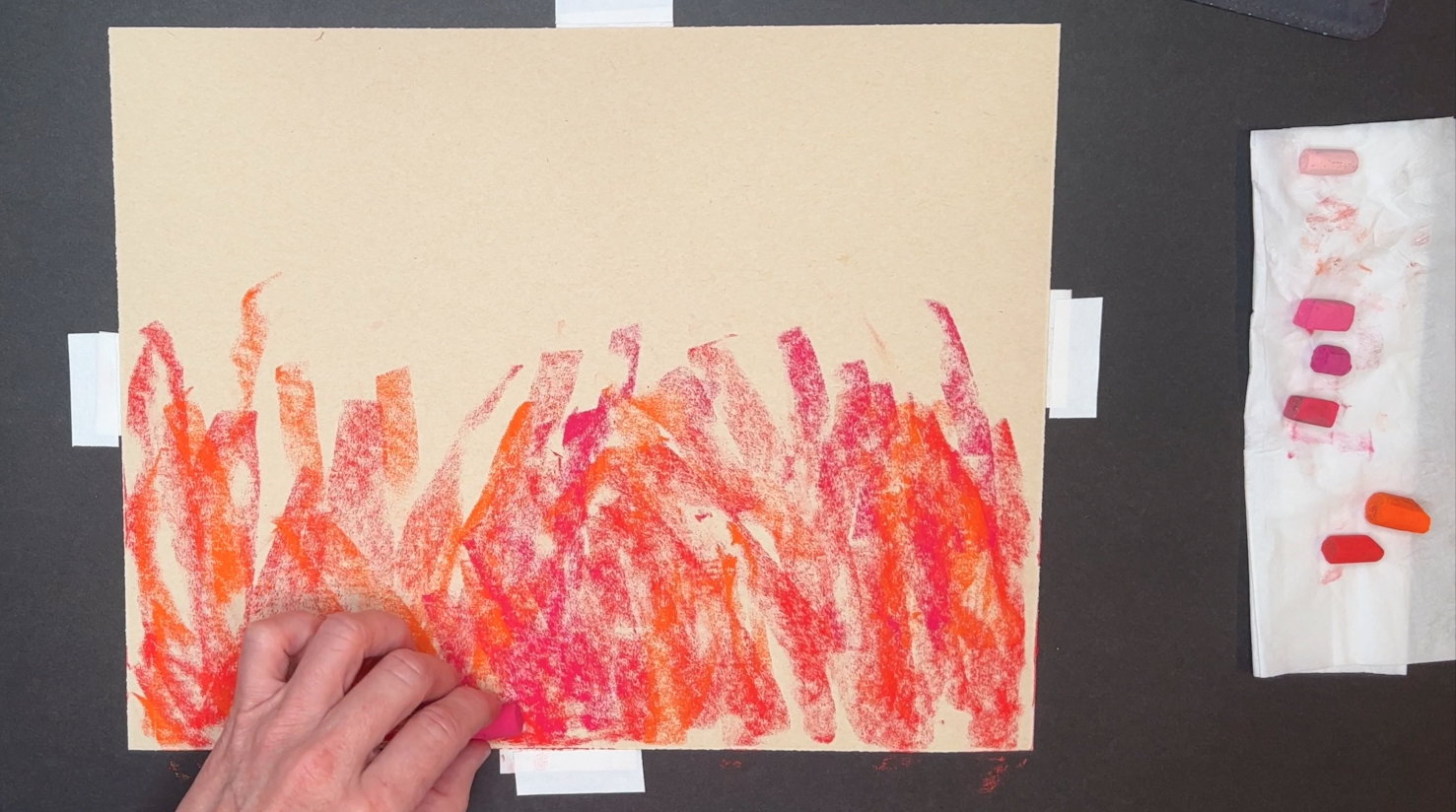 First, I combined the two oranges at the bottom of the right. It was a mix of orange and reddish-orange.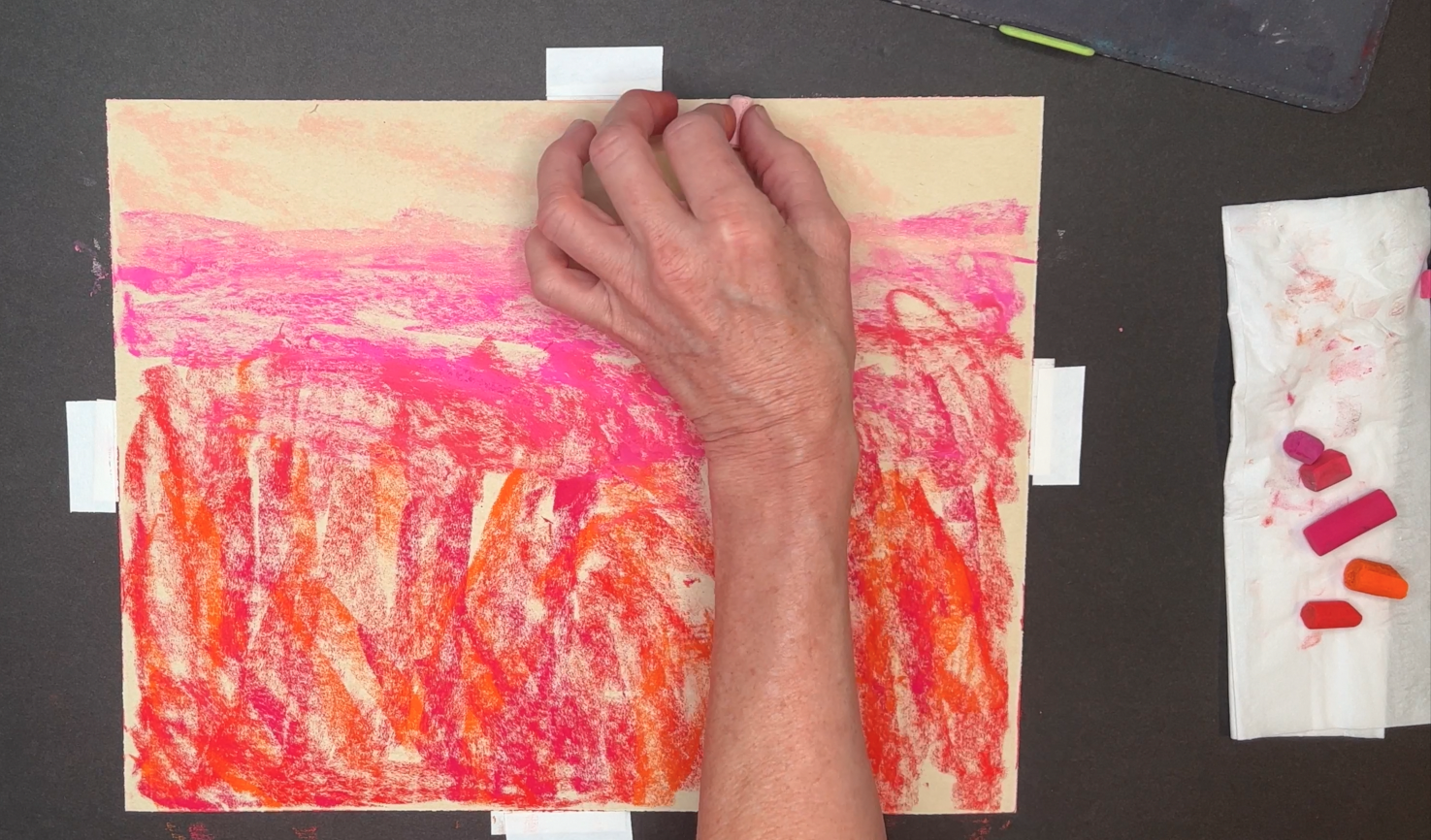 As I add colors into the distance they become lighter and cooler. Why would I do such a thing? It is because color temperatures cool off as you move away, and they also become lighter. Another artistic principle is that in the distance, things tend to flatten out. Your foreground grasses will be vertical strokes that will gradually become horizontal strokes recede into the distance.
What you're doing here is creating an underpainting that already has the correct values for when you start with the other colors.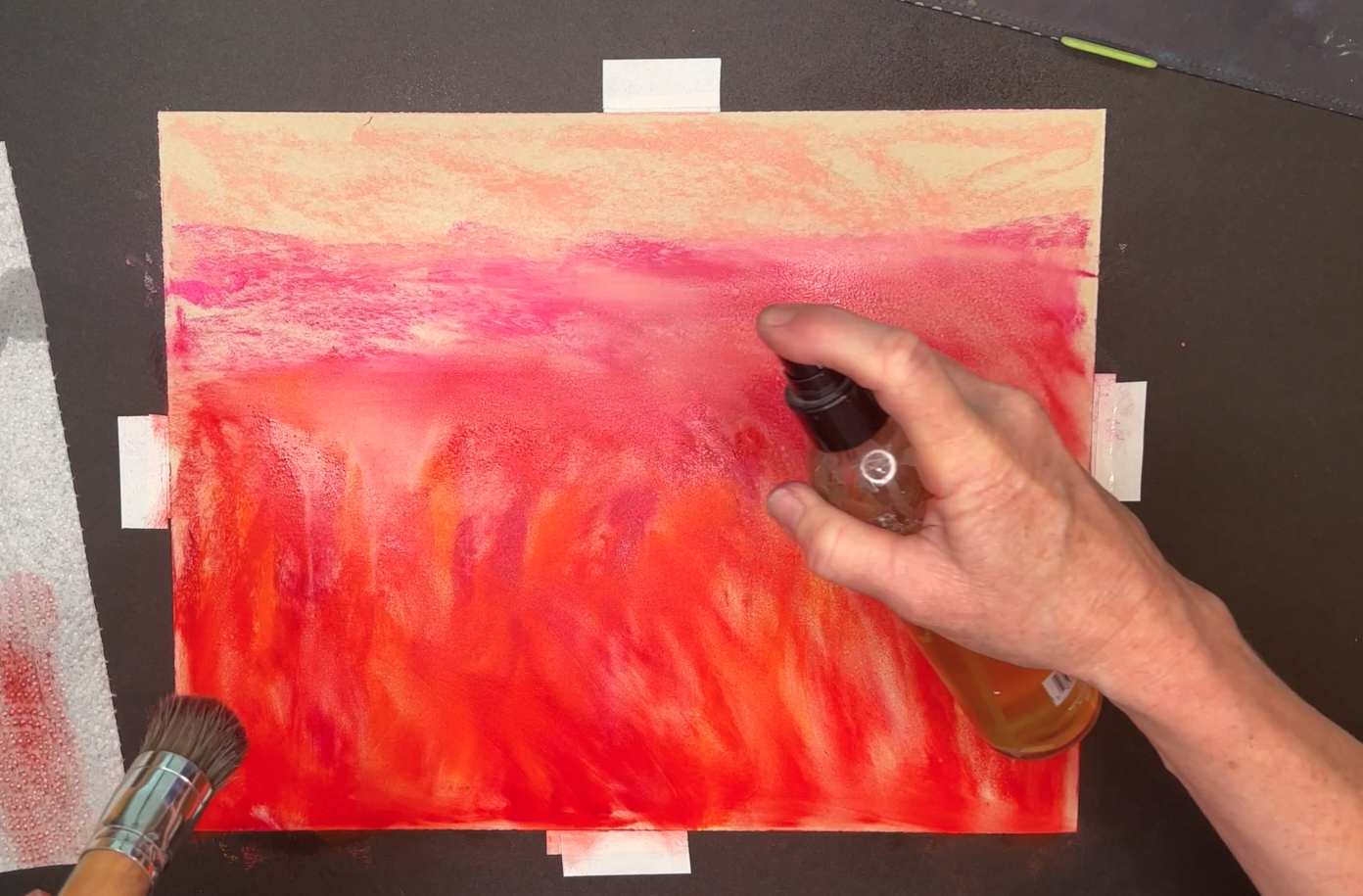 Now I've taken the alcohol and sprayed it across the bottom. I'm doing this in sections and simply blending with my brush in vertical strokes to see how well it blends.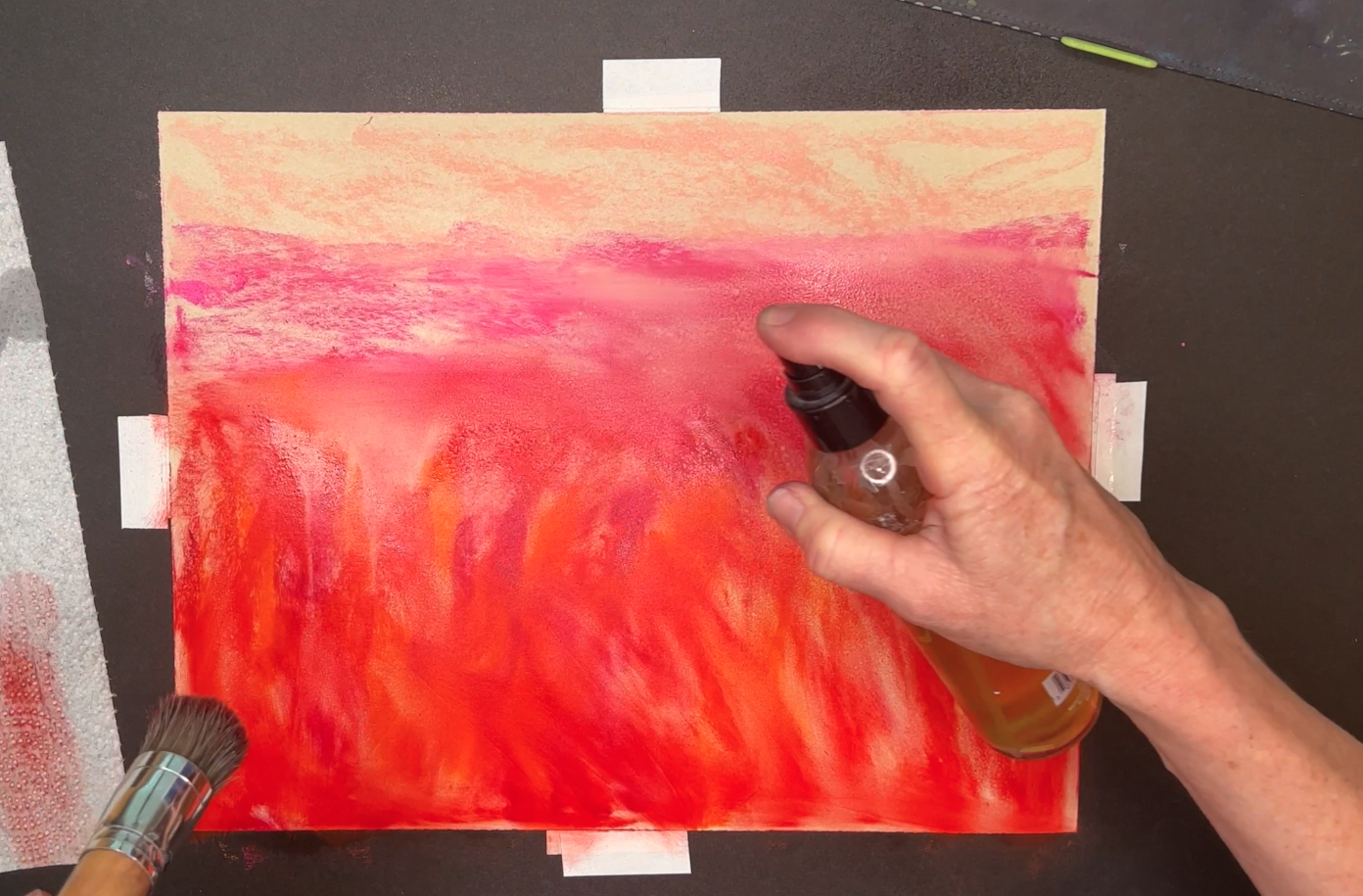 I'm currently working on the middle section. Note: I rinse my brush after each section I'm working on, to keep the dark colors from bleeding into the lighter ones.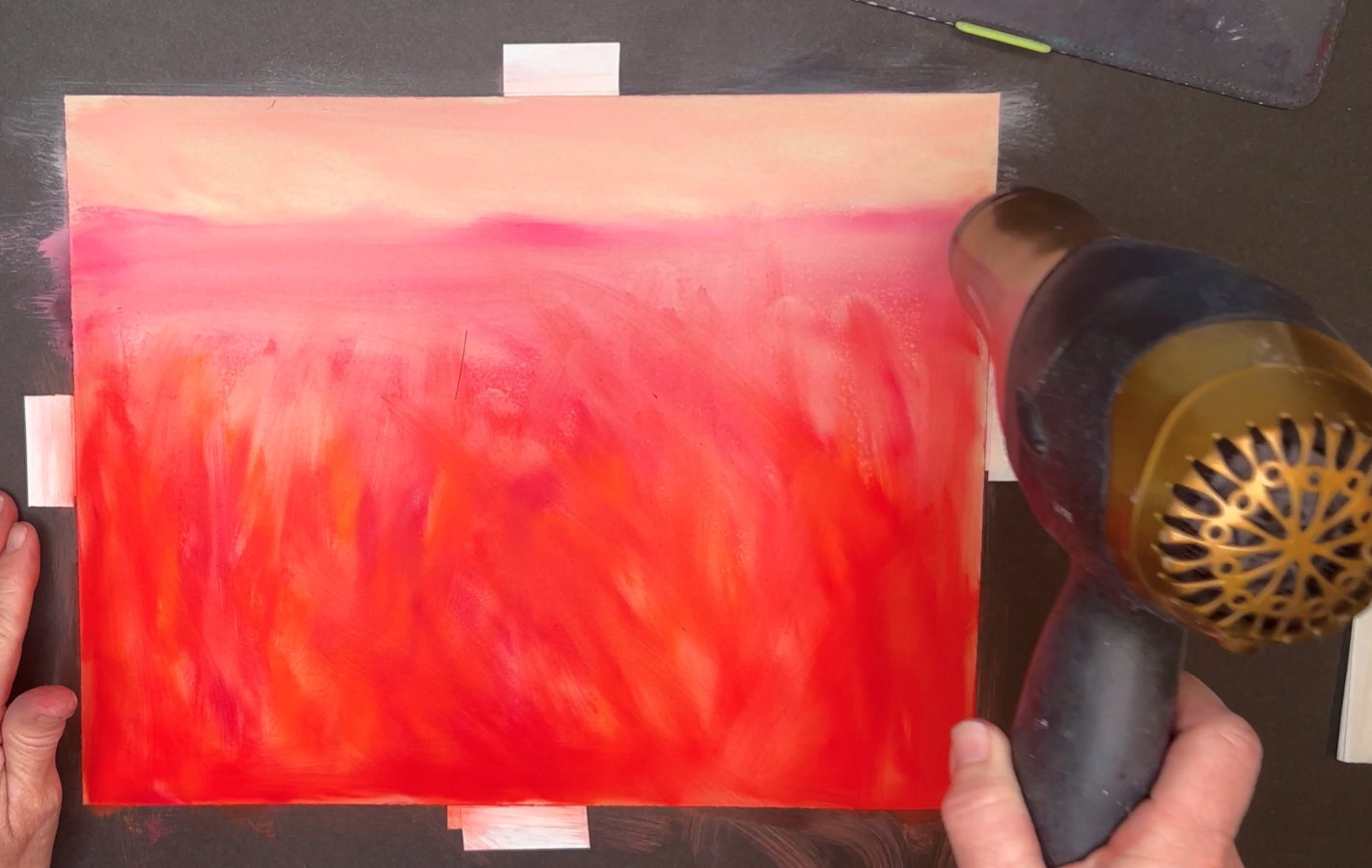 Once I blow it dry, I'm ready to paint! I'd like to emphasize that this should only be done on water-friendly surfaces. The same technique could be used on watercolor paper which is less expensive than pastel papers. I have a technique that I use often to make your own sanded surface with watercolor paper. Here is a link to a product review video where I describe the process using "clear gesso". DIY Pastel Surface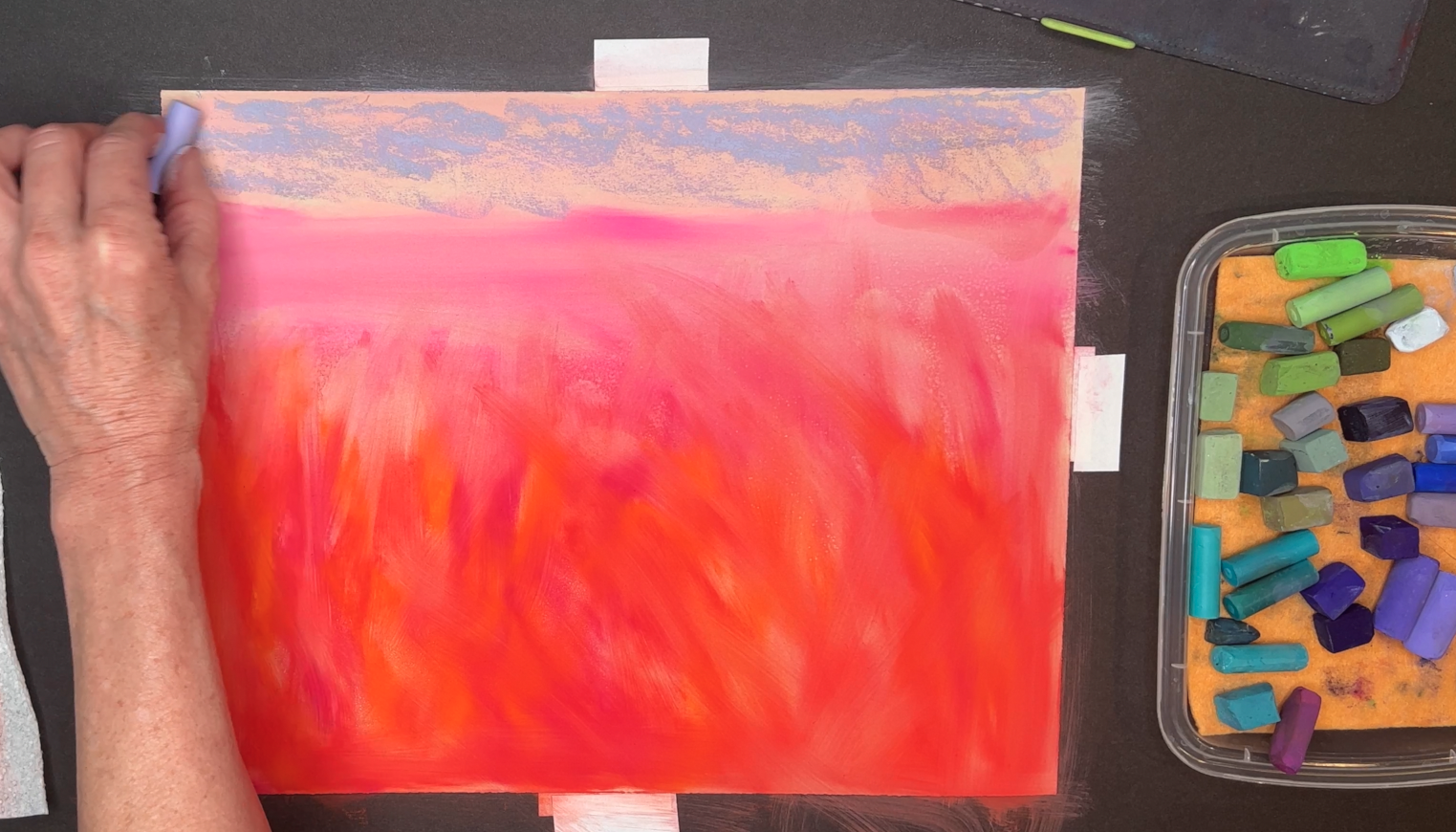 I work this painting from top to bottom beginning with the sky. I use some light lavenders and blues which will connect nicely with the color of the lavender flowers.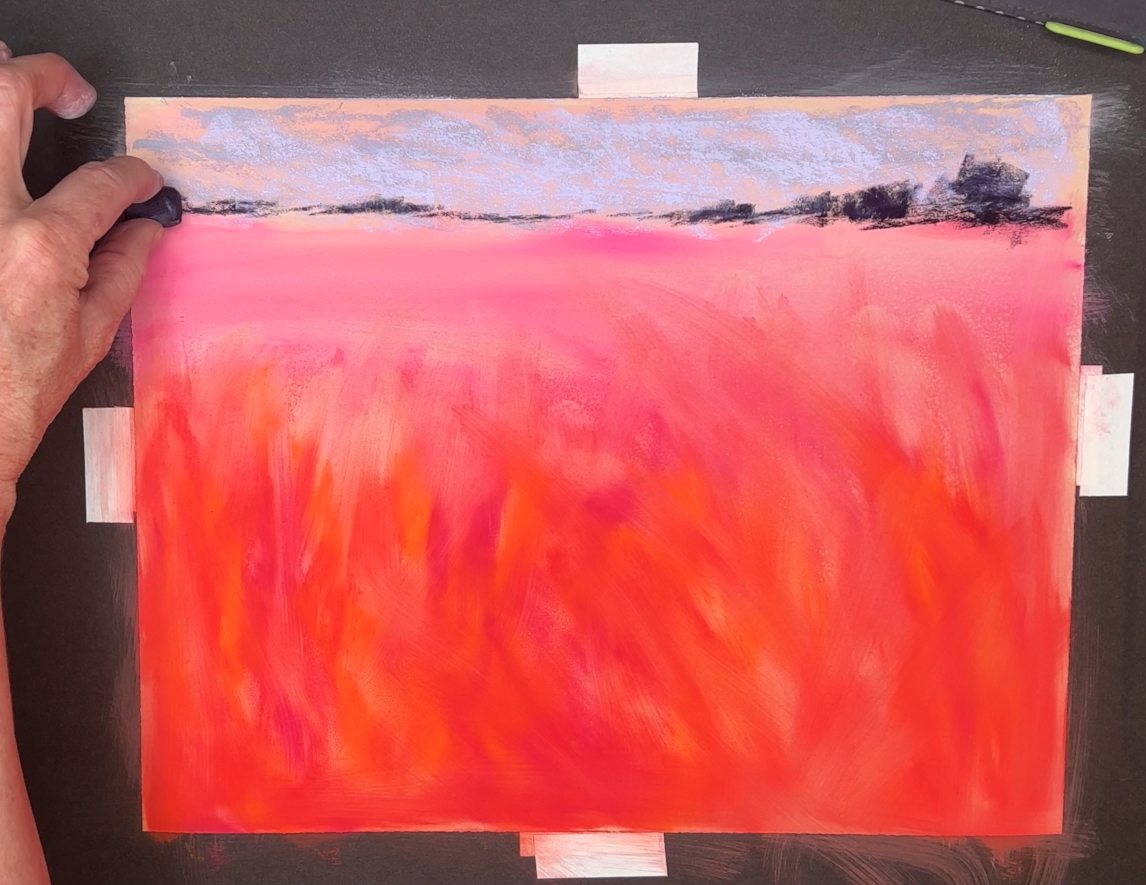 Next, I add the tree line with loose strokes.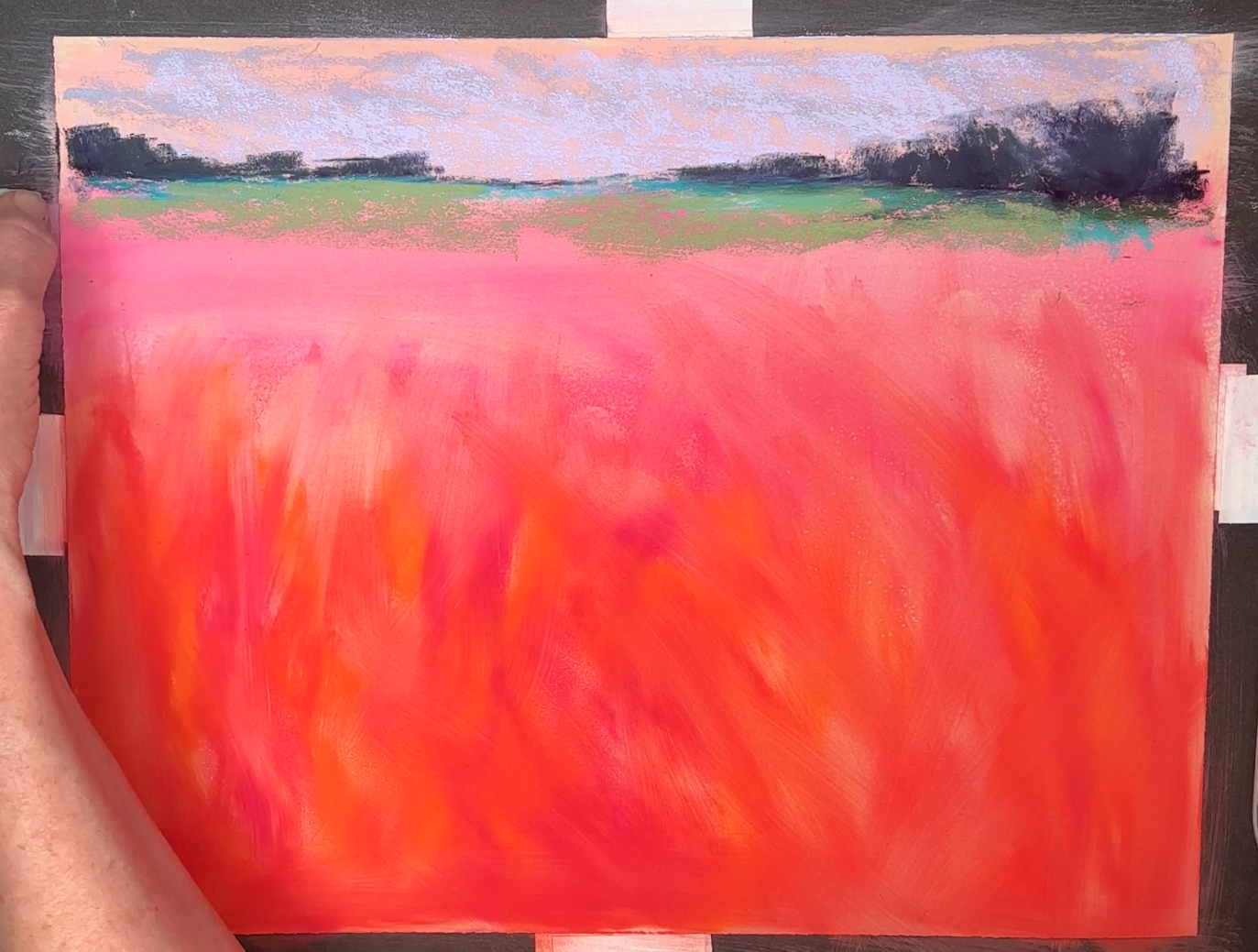 The grasses in the distant field will be cooler greens and teals. I will add lighter values on top later.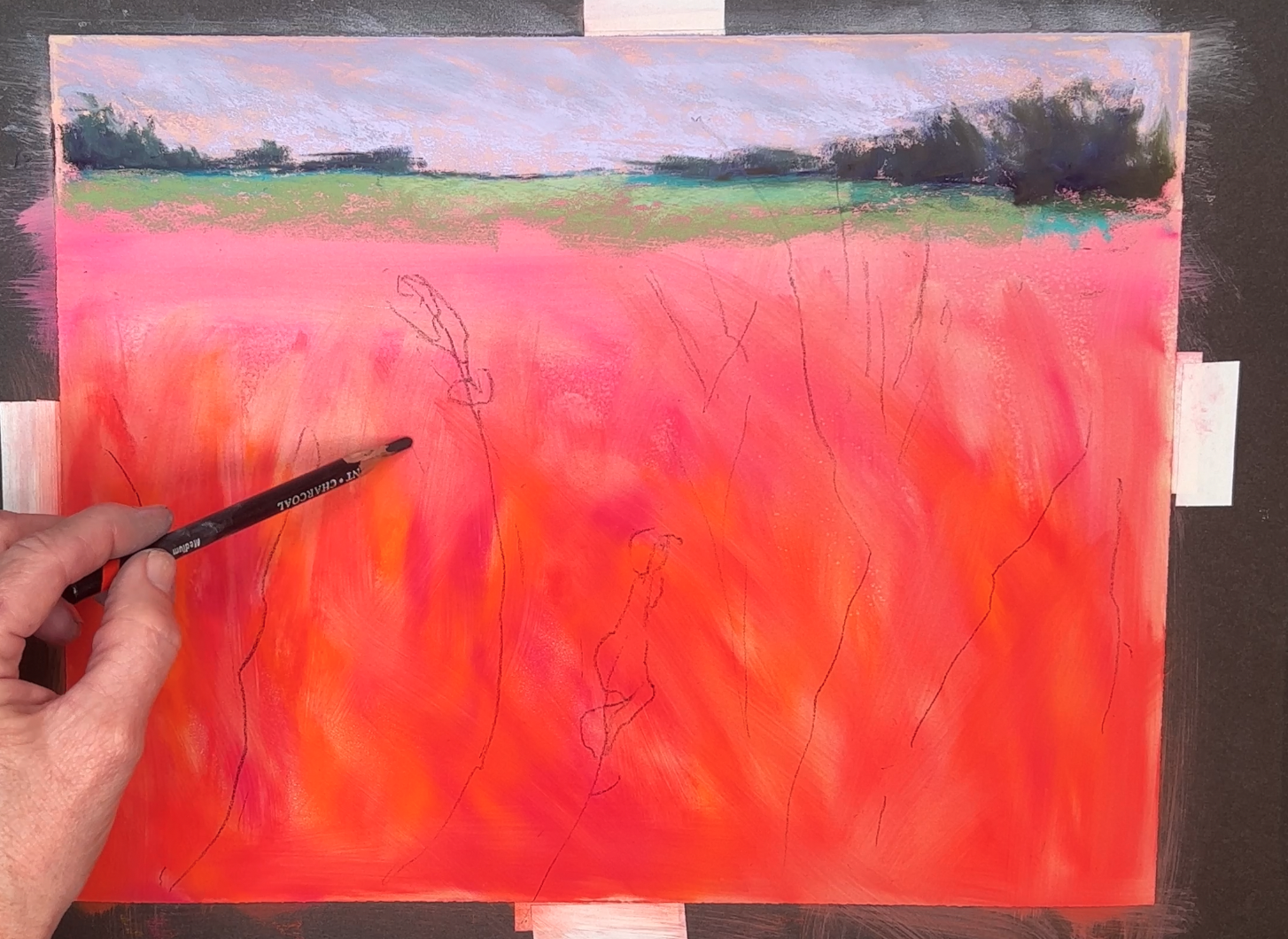 I use a charcoal pencil to get some gestural marks for the lavender flowers trying to keep a loose and harmonious feel.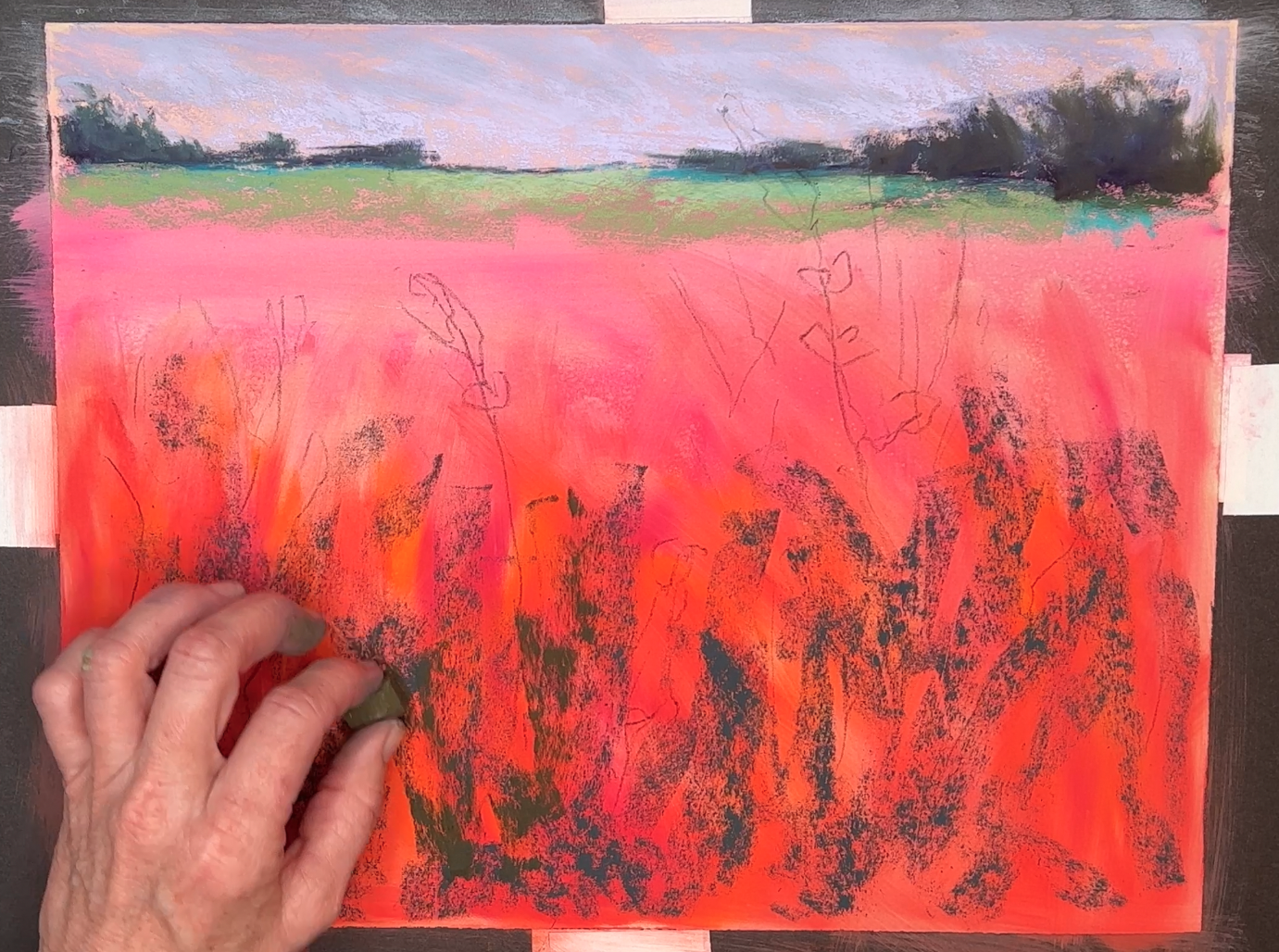 I work in the darker foreground grasses with large loose strokes. The colors in the foreground are typically darker.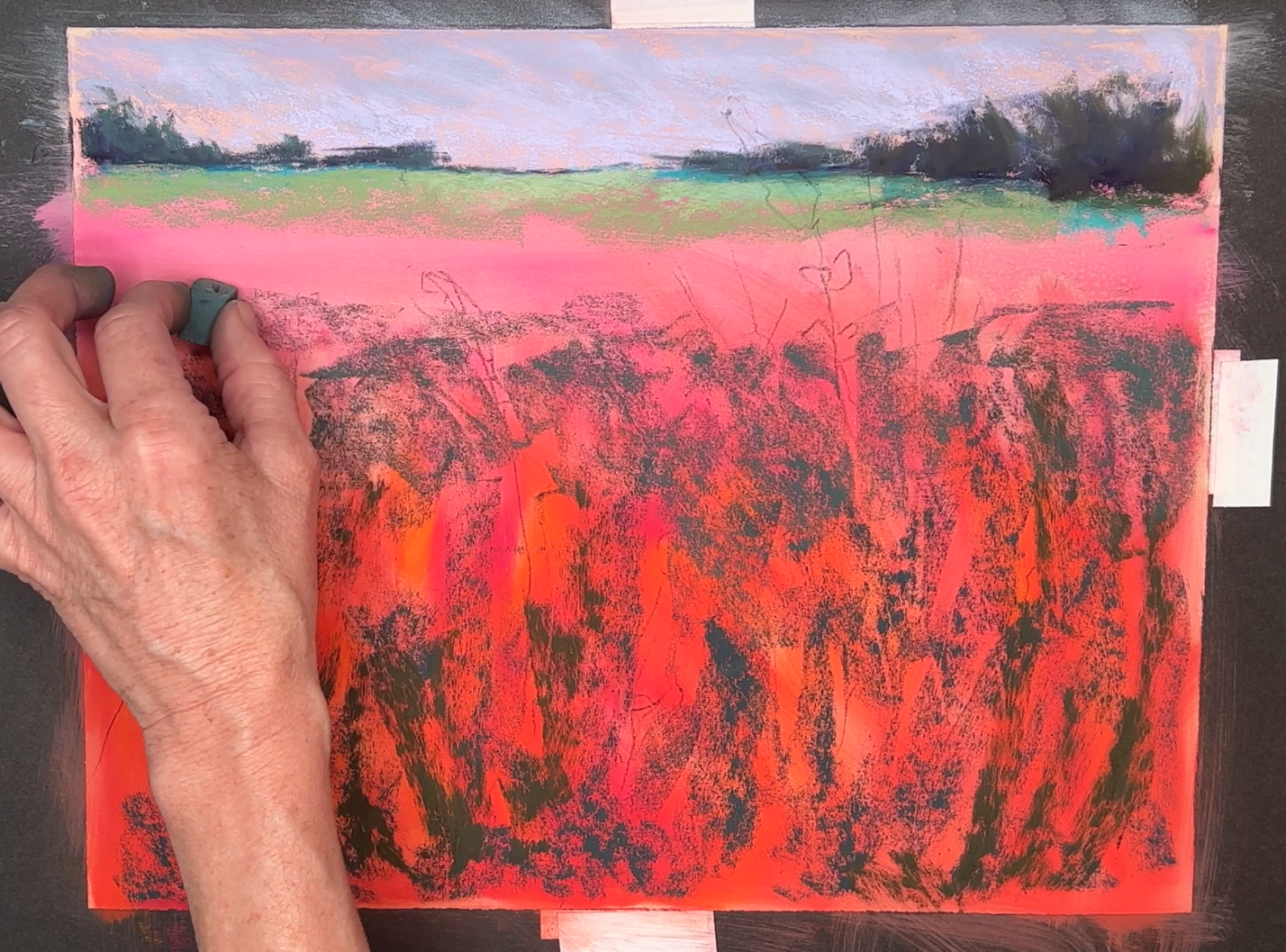 I continue to lay down color for grasses, gradually getting lighter and cooler in color temperature. I also begin to shorten strokes that will eventually flatten out to horizontal strokes in the distance.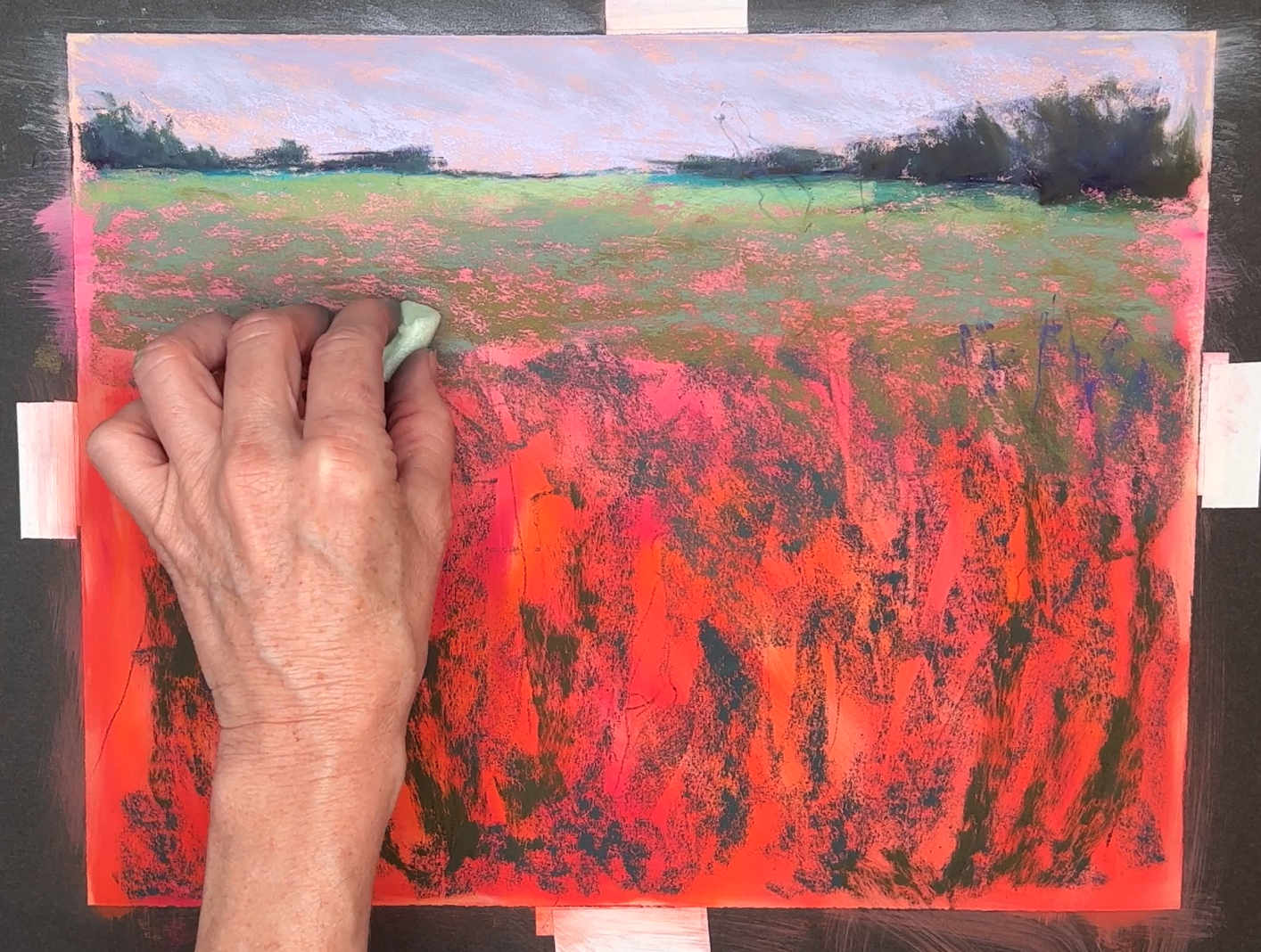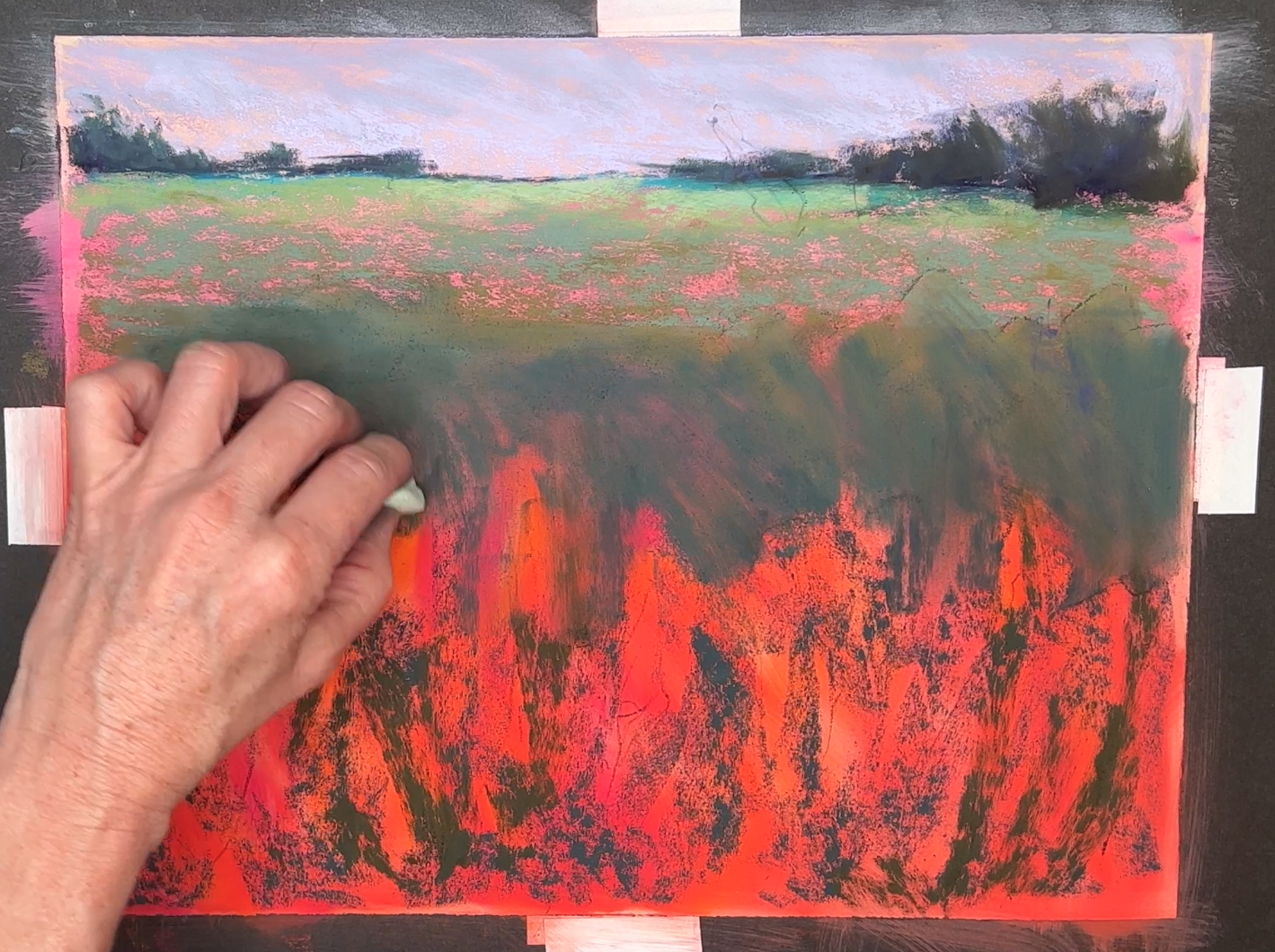 Here I am using a "Packing Peanut" (the kind found in packages to protect the contents). This is an excellent blending tool to soften things.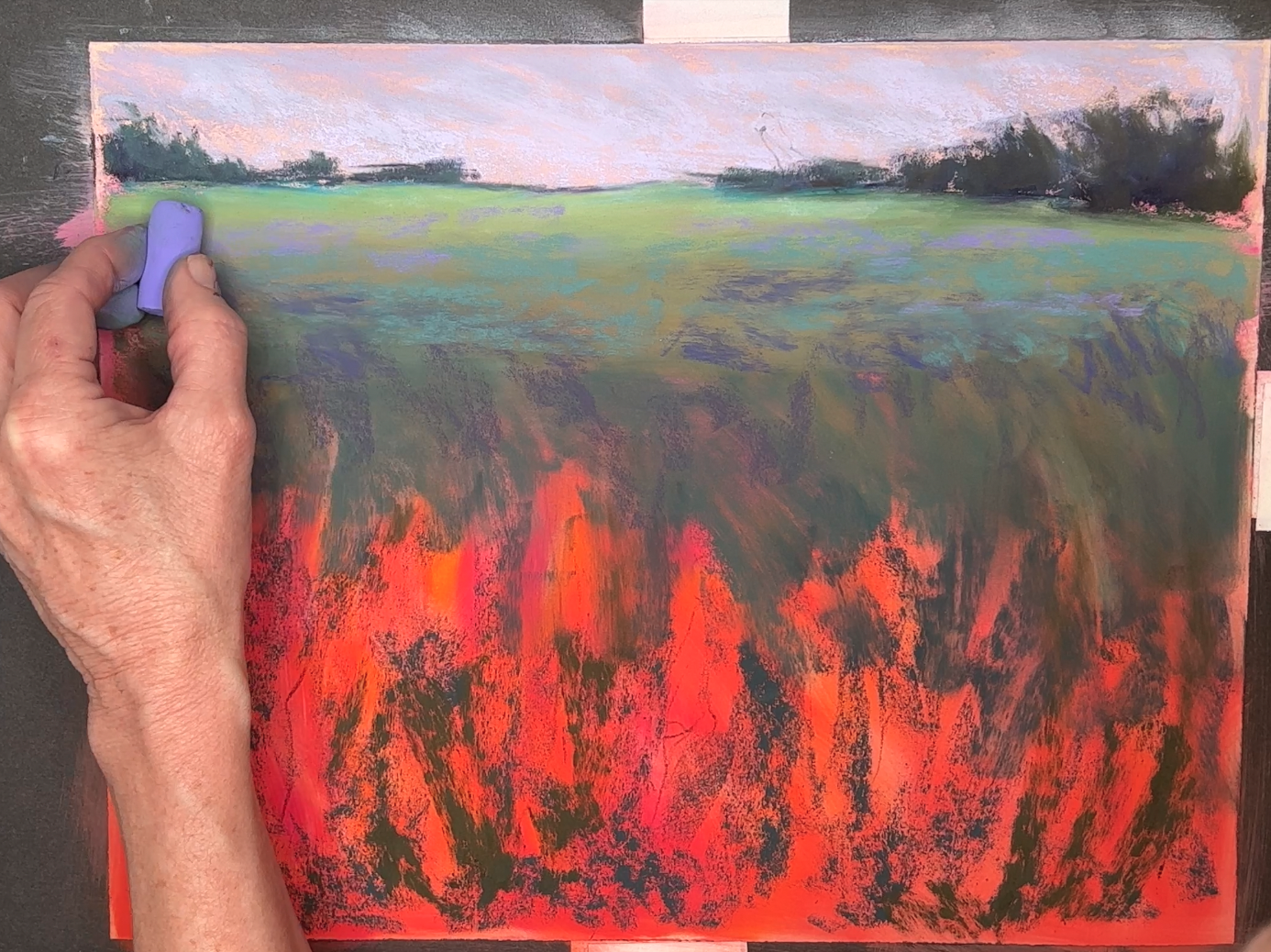 I add some distant hints of lavender to suggest flowers that are far away. These will be mostly horizontal bands of lighter value lavender.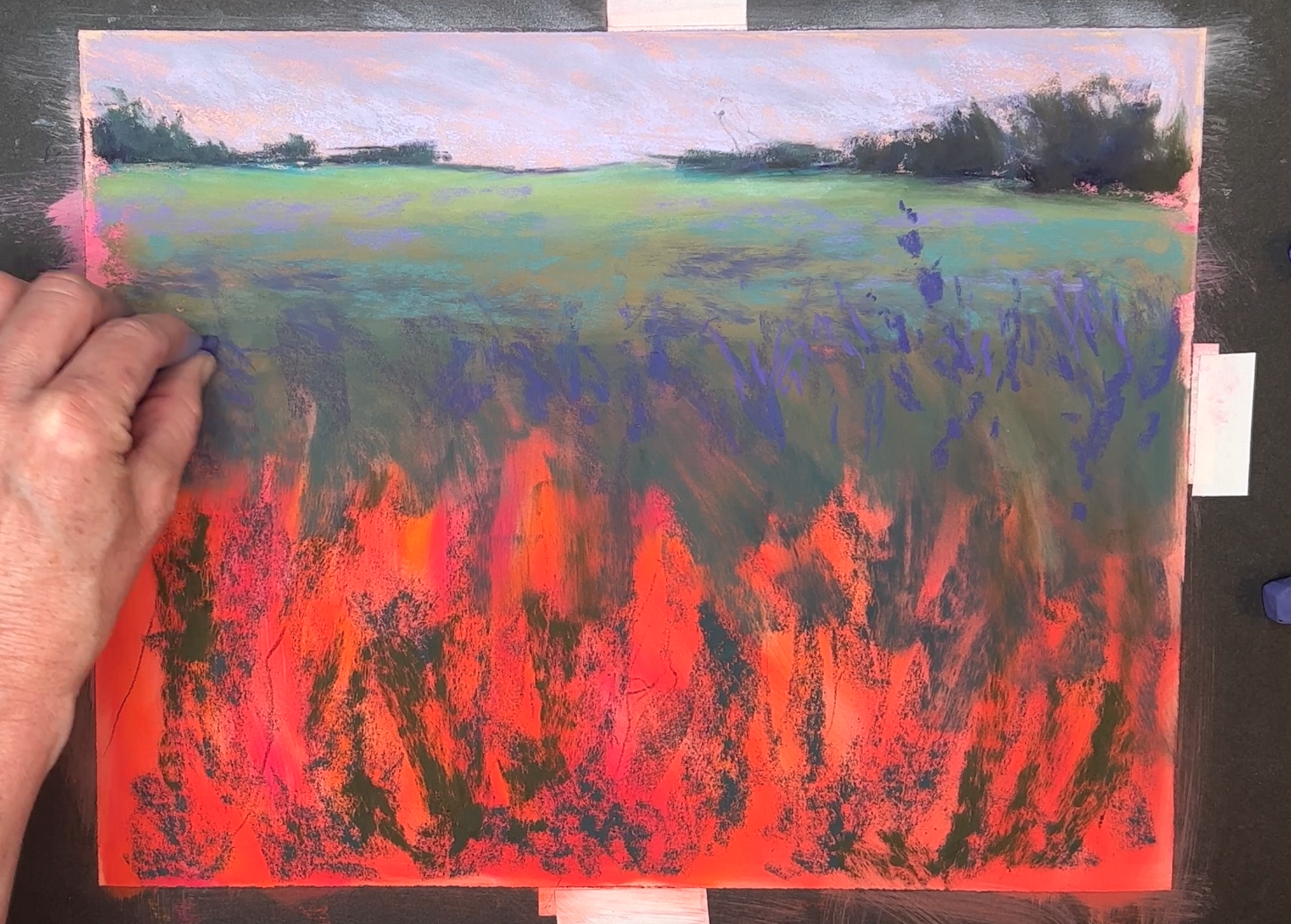 I begin to add some middle value purple to suggest flower in the middle-ground.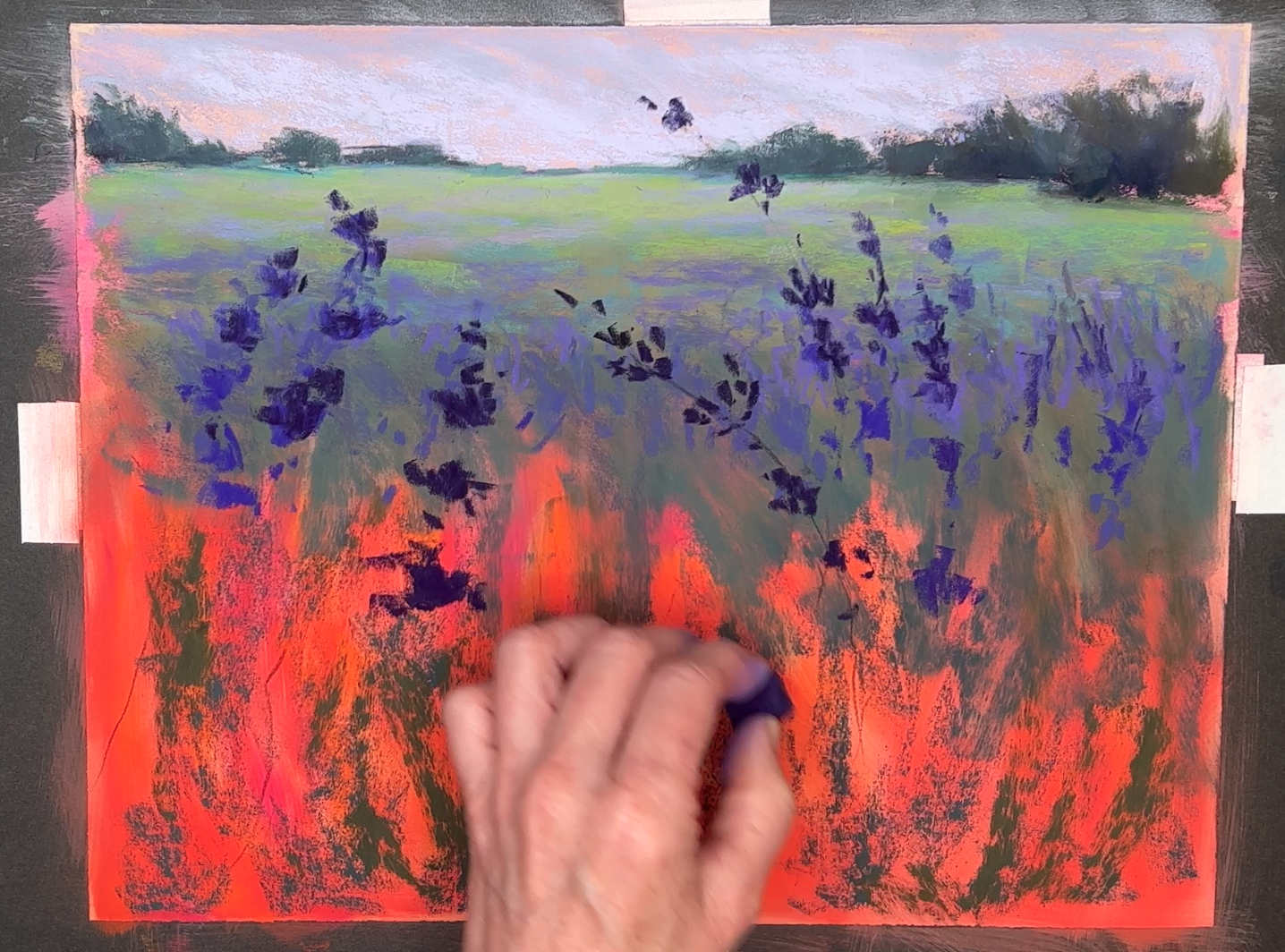 And now it's time to add the main flowers, which begin with darker values and I will gradually layer the lighter values on top for contrast.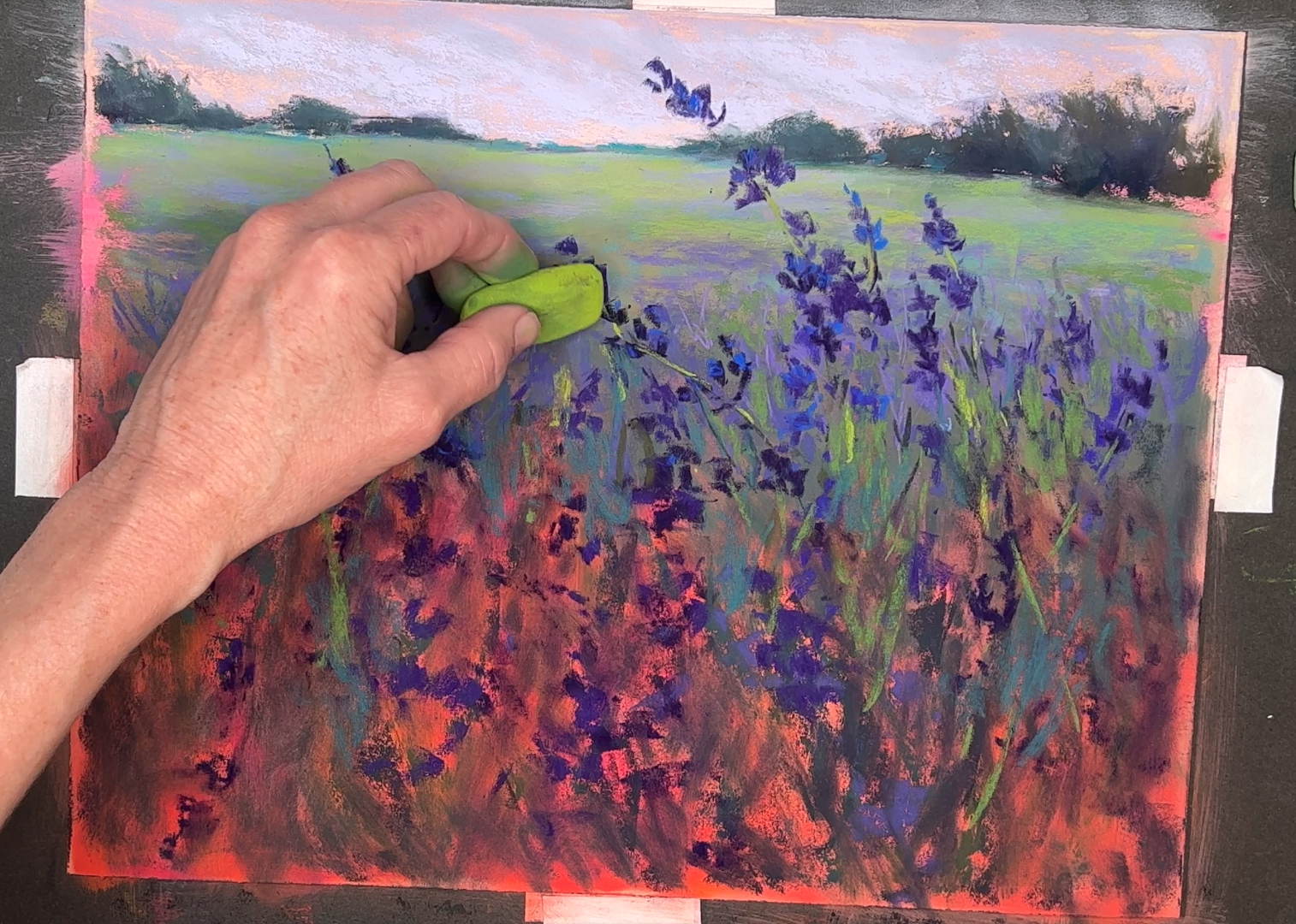 I have now added more dark grasses and I'm beginning to add highlights to some of the green grasses on the surface.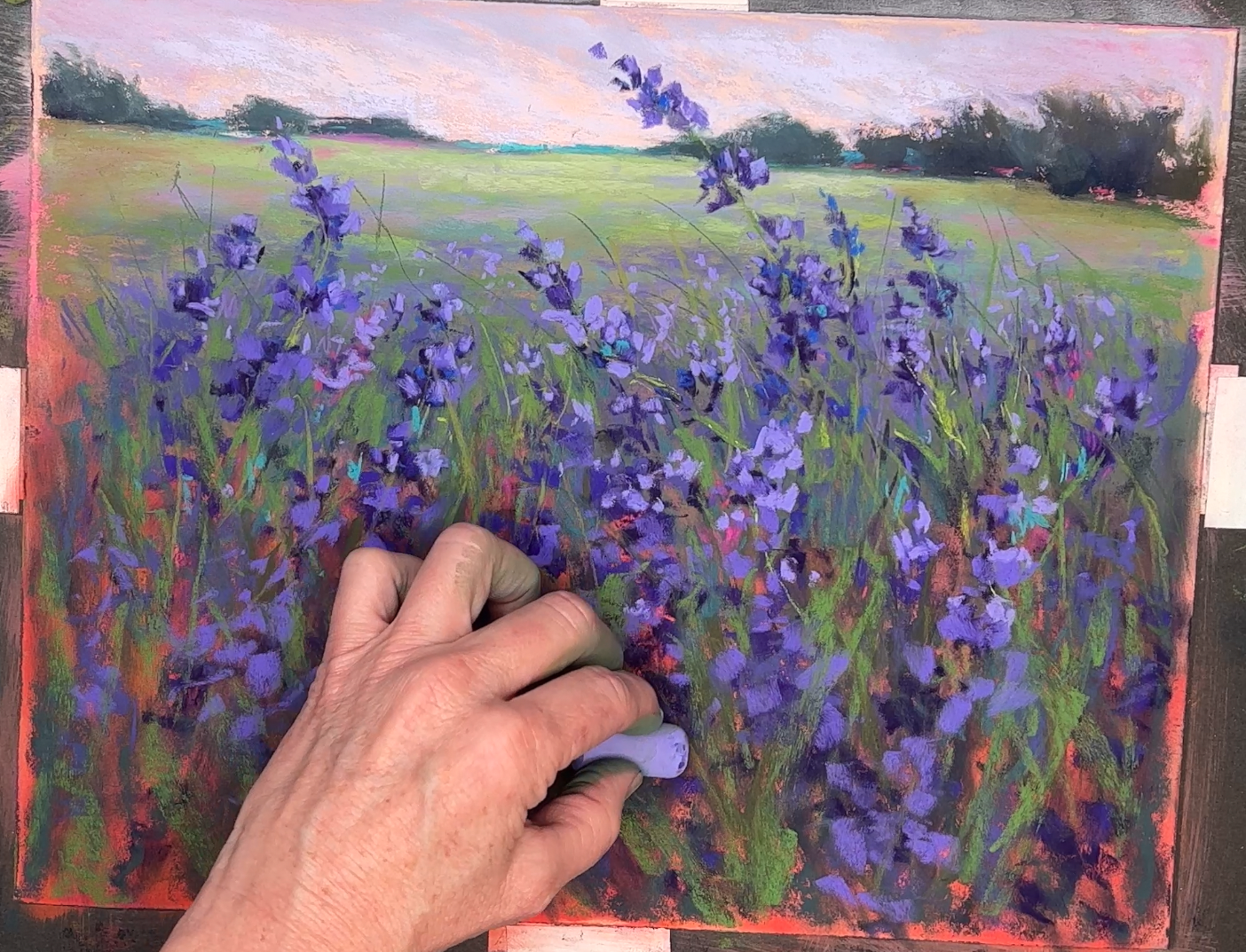 Now you can see how I have layered color using purples that gradually go from dark to light.... reserving my lightest marks for the final icing so to speak. I try not to use my lightest purples deep into the grasses because they would be more in shadow.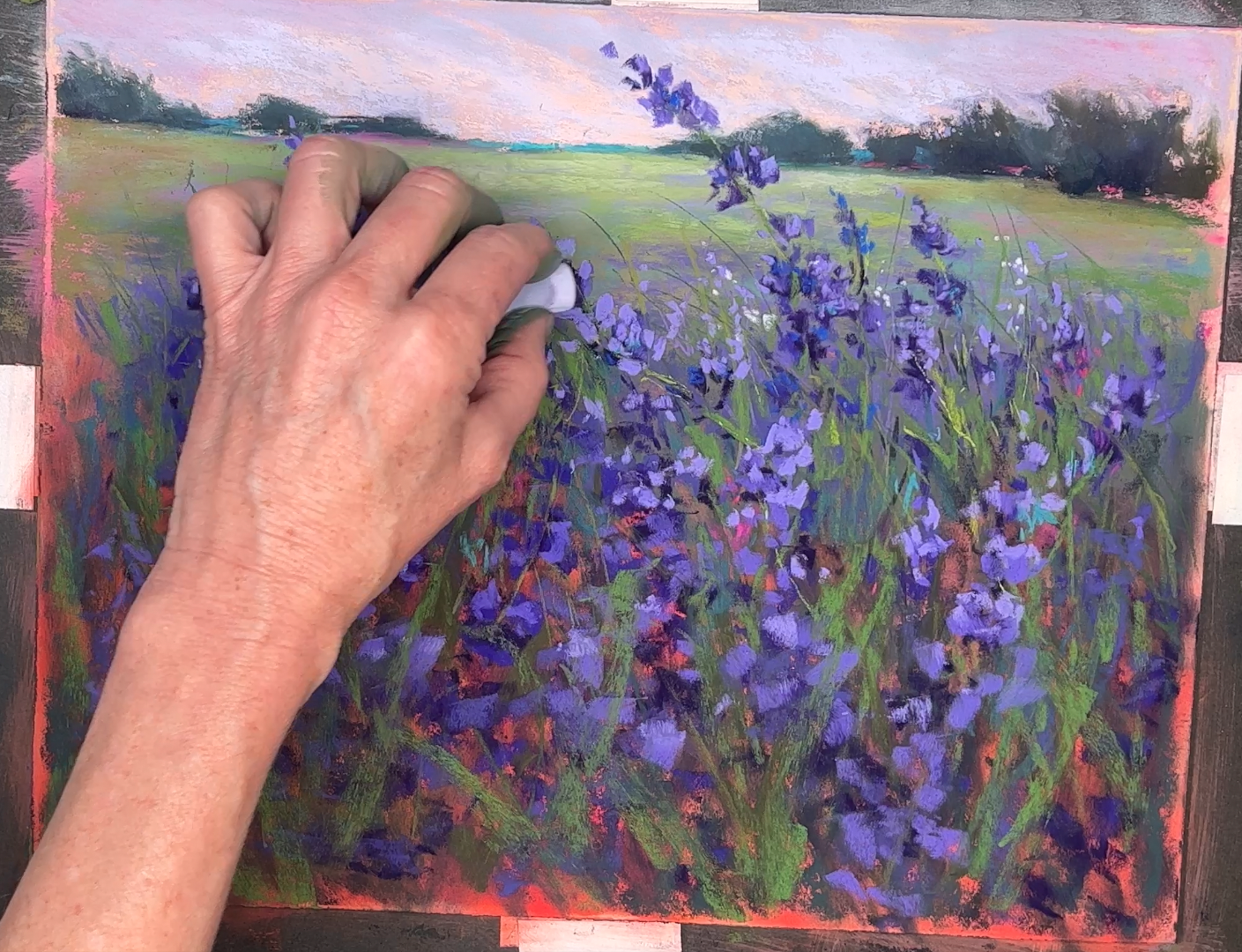 Some final fun white flowers for interest, and I'm almost done.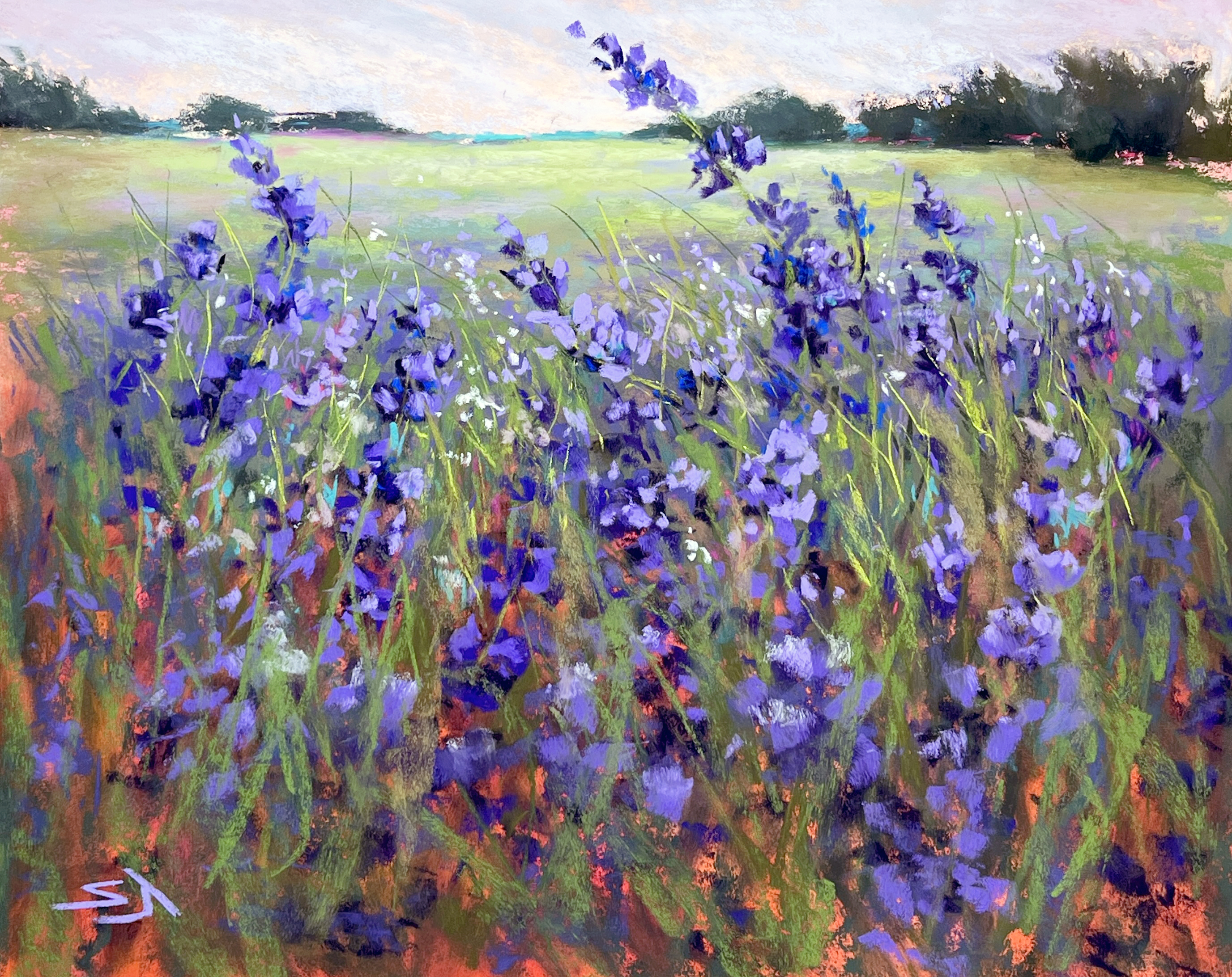 I hope you learned a lot from this blog post and if you would like to see the full video, click here: Full Video Lesson
The reference image is from Unsplash.com: Reference Image
Also, if you would like to support Monet Cafe' to keep free art instruction coming to people all over the world, please consider becoming a patron of mine on my Patreon page for only $5 per month. You also get extra content: My Patreon Page
So blessings to all and.....Happy painting.
Patreon Etsy Website YouTube Instagram My FB Page