How to Paint Light with Soft Pastels - Step by Step
How to Paint Light Using Soft Pastel: Step-by-Step
Welcome to Monet Cafe. I believe many of you will enjoy today's lesson on creating light with soft pastels. How do we accomplish this with an opaque medium? Join me in the studio, and we'll get started.
Supplies
Let's talk about the materials that I used. I used an image from unsplash.com as a reference that I'll include a link for below. I'm using a homemade surface; I have another video that shows how I made these boards. I'll also include a link to that (below). It's a cost-effective way to paint with pastels and create your own DIY surfaces. The surface color was already very similar to the lightest part of those lemons where the light was shining through it, so I thought it was ideal for the reference image.
I mainly used the 40-piece Landscape Collection hand-rolled pastels by Jack Richeson. I recently reviewed these pastels in a video that I'll also include a link to. People must love them because they've sold out since I shared my review, so you may have to try to find these pastels on Dick Blick or another retailer. But, as I always say, make do with what you've got. You are not required to own this particular set.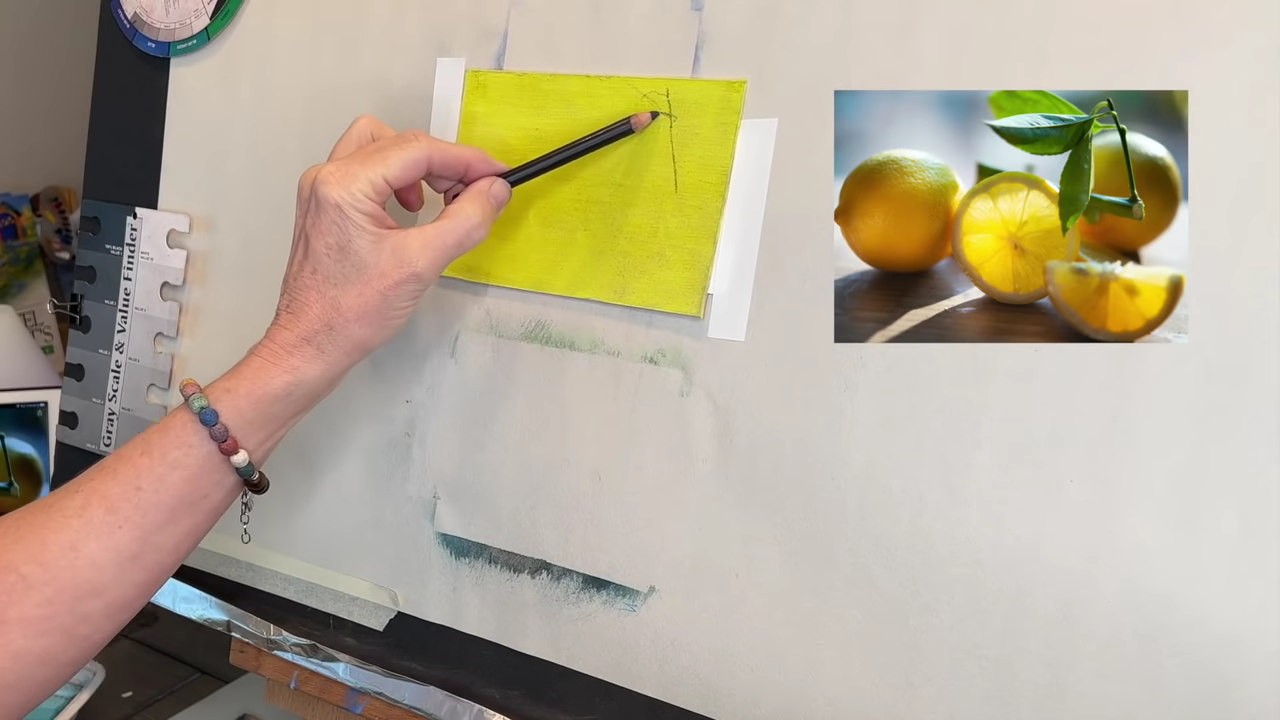 First, I'll start by sketching the basic shapes with a charcoal pencil. Nothing needs to be overly complicated. Focusing on big shapes and a sketchy quality helps to enhance the painterly feel. One of the reasons I chose this particular board from the boards I had made was because of the color. I frequently choose this way when looking at my reference image. Even when choosing my surface and pastels, I let the reference image guide me, so I thought this particular lemony-lime green color would be ideal for capturing the translucent feel of the lemon slices. Also, using an opaque medium, such as soft pastel, acrylic, or oil, we can lose that translucent feeling if we are not careful. I wanted to let some surface show through.
The board I used to create this lemony-lime color was the smooth side of a white piece of matte board. I used Golden fine pumice gel, which has a little grit to it and soft pastels work well with, and I used Golden Open Acrylics in the color green-gold.
You can find the Golden Fine Pumice gel at this link from Amazon: https://amzn.to/3tEYeJQ. Clear Gesso is another product that can be used to add grit to create your own boards:https://amzn.to/3qAsdkg
I like to create my own surfaces because I have complete control over the colors I use.
I have a playlist on homemade surfaces on my YouTube channel if you'd like to learn more about creating homemade surfaces. https://www.youtube.com/watch?v=t4UnXuFEpNk&list=PL_UsFfaI-Klp06RmdbJKNYG3uRVwyC1Lw
My goal with this painting is to make the lemon slices translucent, so the trick here will be to create that see-through feel with an opaque medium (one that is not see-through).
Getting Started: Choosing Colors
Now, I'll go over my strategy in more detail.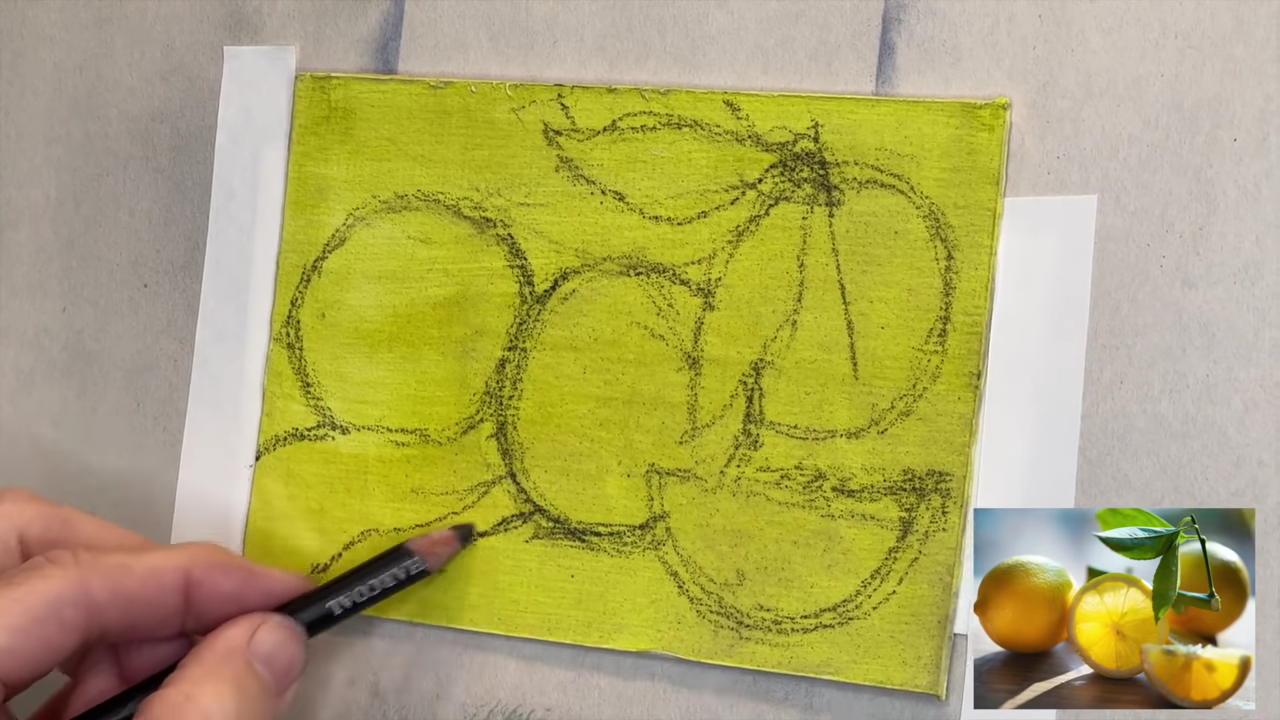 I erased a small amount of the charcoal with a kneaded eraser to soften it up because I didn't need all those black lines showing. I'm still using the Jack Richeson landscape set. There are many good sets to use if you're a beginner artist, but I always recommend half-stick sets. Many companies sell half-stick sets, and you almost always get twice the color for your money, which is exactly what you want as a new artist: a plethora of colors to choose from. But, as I said, you don't have to have this set as long as you use values that are close.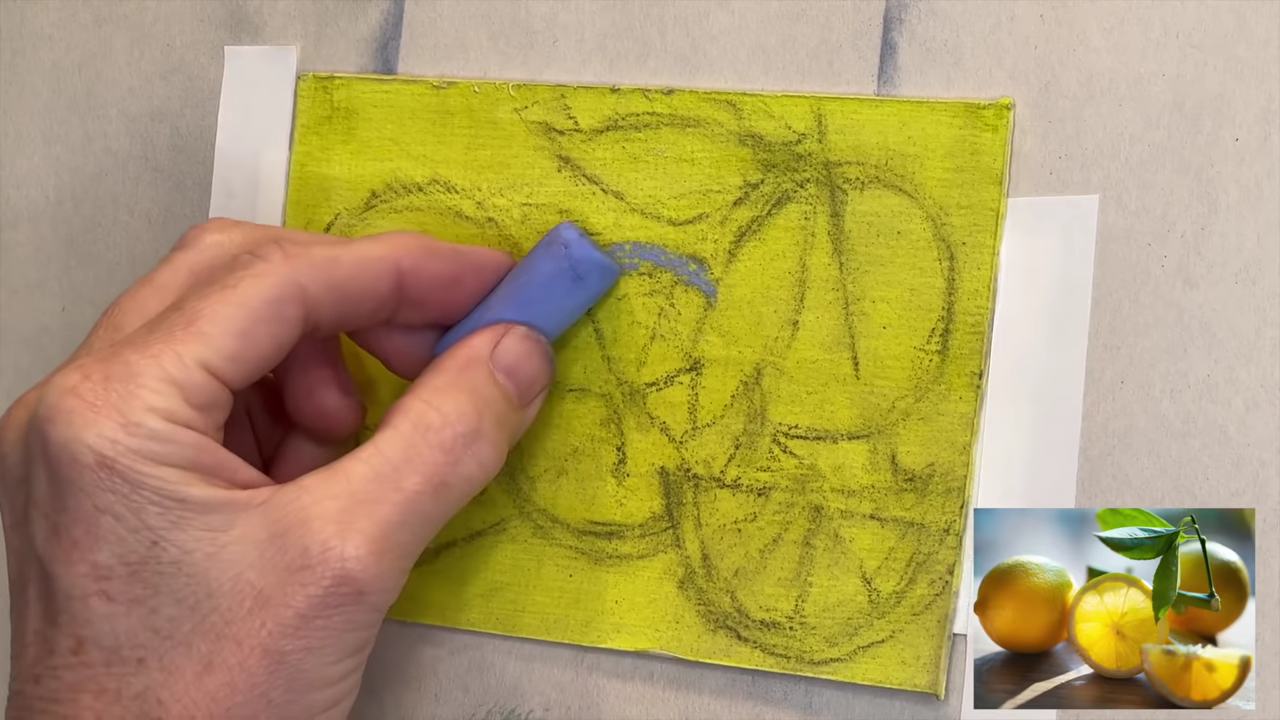 I'm using blues to start, which may seem odd as lemons are a warm color. The side of the lemon I'm working on is shaded, though, so I'd like to start with a shadowy color. One of the best things about soft pastels is their ability to be layered. If you start with a cool tone, you can add some warmer values later, as I'll do with this brownish color. I'm doing this because brown is a dark yellow value, which is what I need. If I can't find any dark yellows, I'll choose brown. It's a good color for me to capture the shadowy side of the lemon while also having that coolness already laid down. It gives the impression that things are in shadow. Think of it like this: When it's hot outside, you seek refuge in the shade to help your body cool down. That's exactly what happens when you mix colors. They cool down.
Blending & Layering
There are two things I want to bring your attention to at this point - I'm going from dark to light, and the board is very textured. As a young artist, that would have bothered me because it can make blending more difficult, but now I know the pastels begin to blend themselves as you lay them on more. What looks like a jumble at first will gradually come together.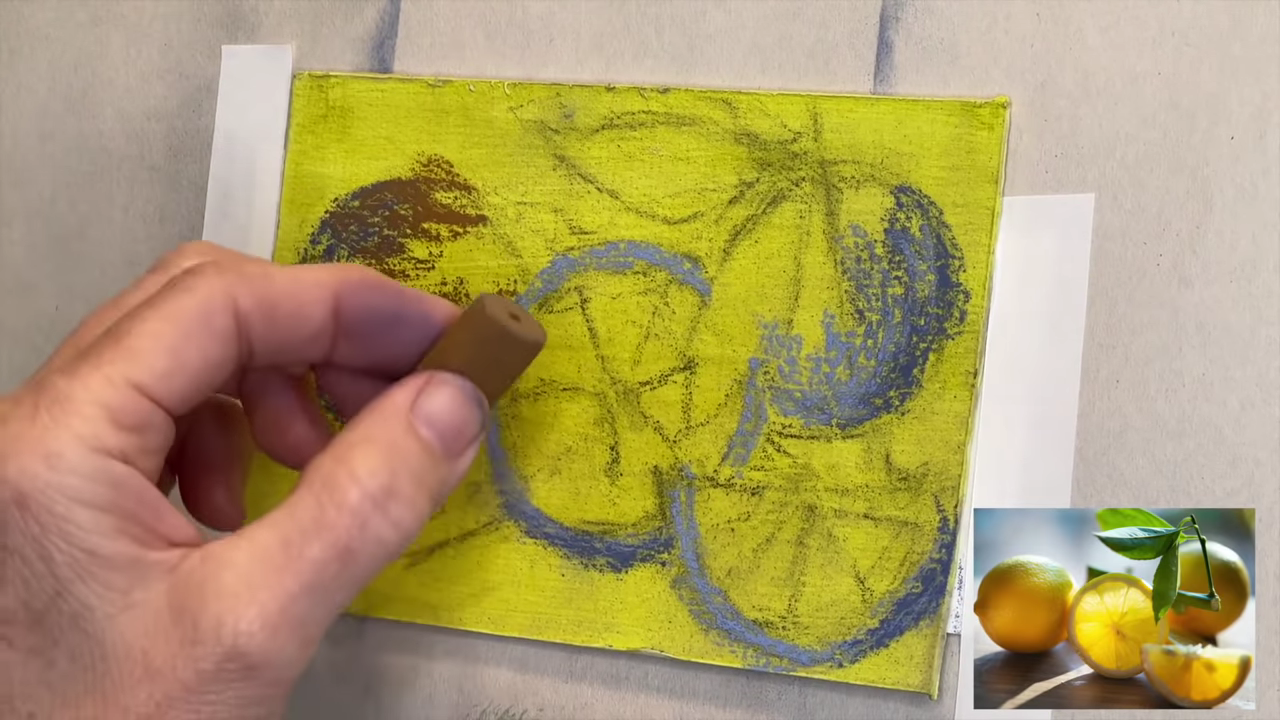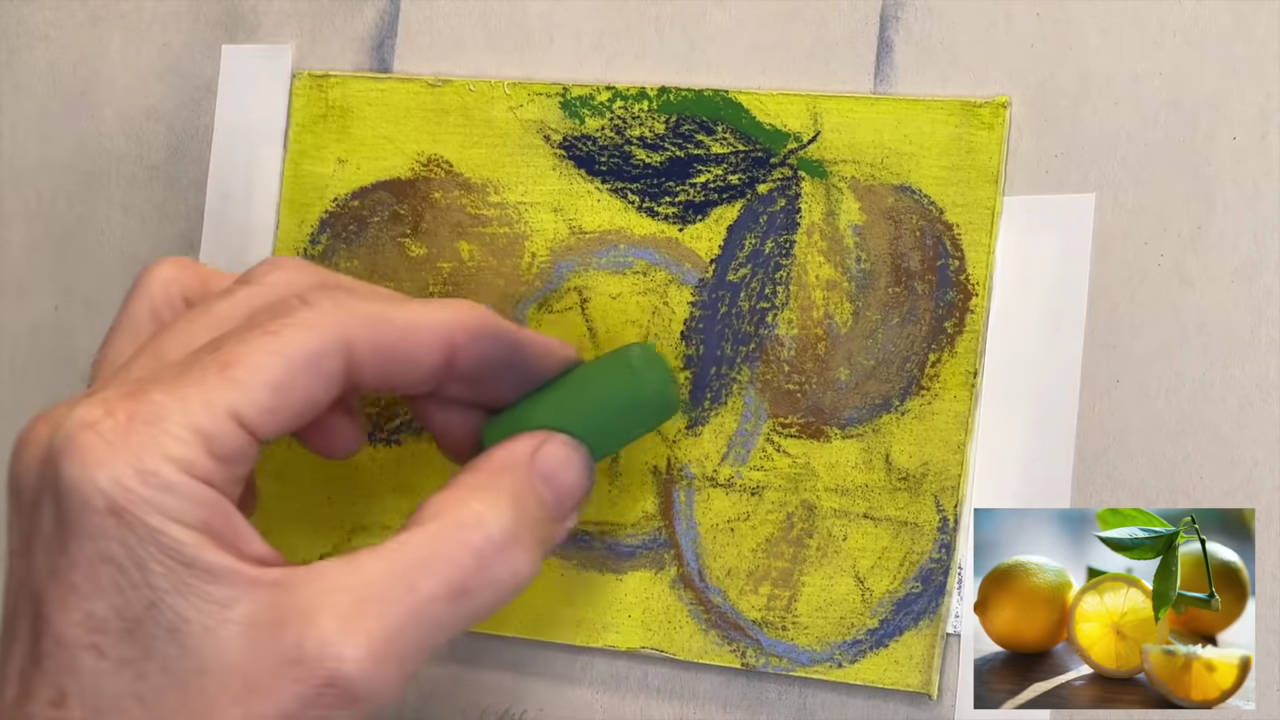 Next, I'll soften up some yellowy-green and smooth it out for the shadows and add the stem. It was difficult to tell where it was coming from, and I tweaked this at the end because I didn't want anything to overshadow the main lemon. I haven't done anything to the most translucent lemons yet. I'll leave them alone for now and focus on lightening up some of the shadows. It's important to remember not to over blend your painting. I always say stop before you think you're done.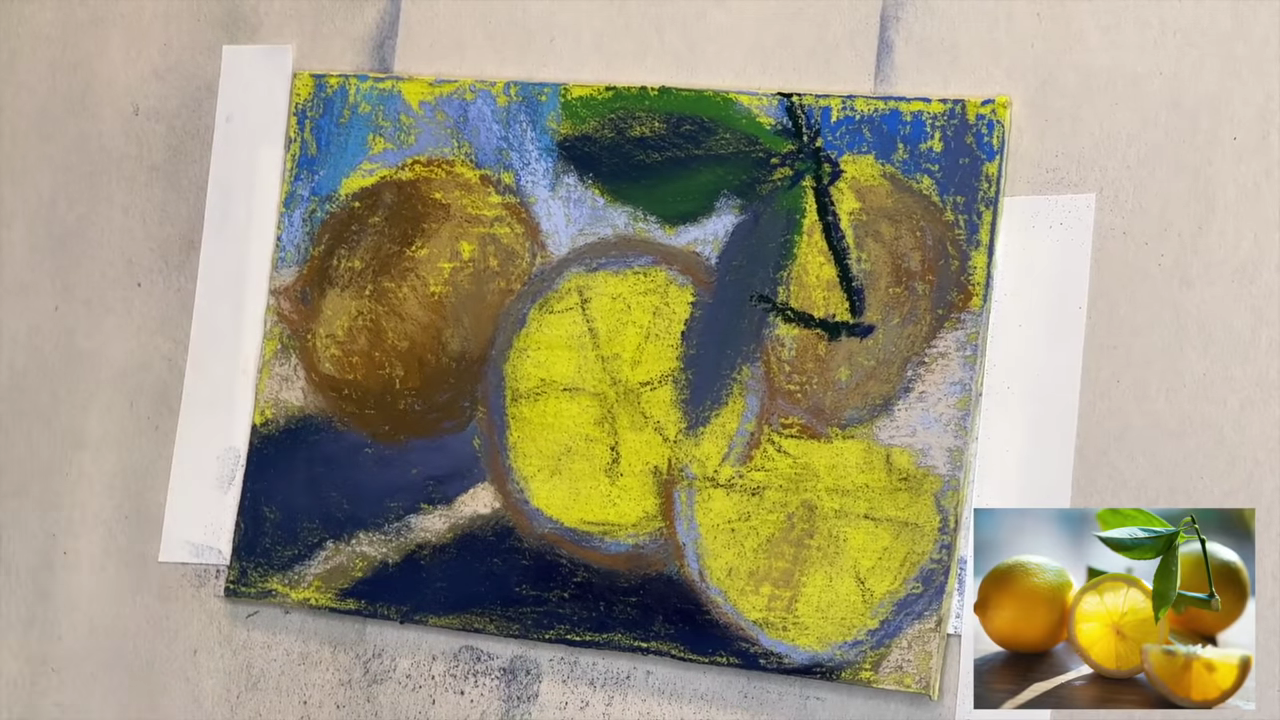 Getting to the Details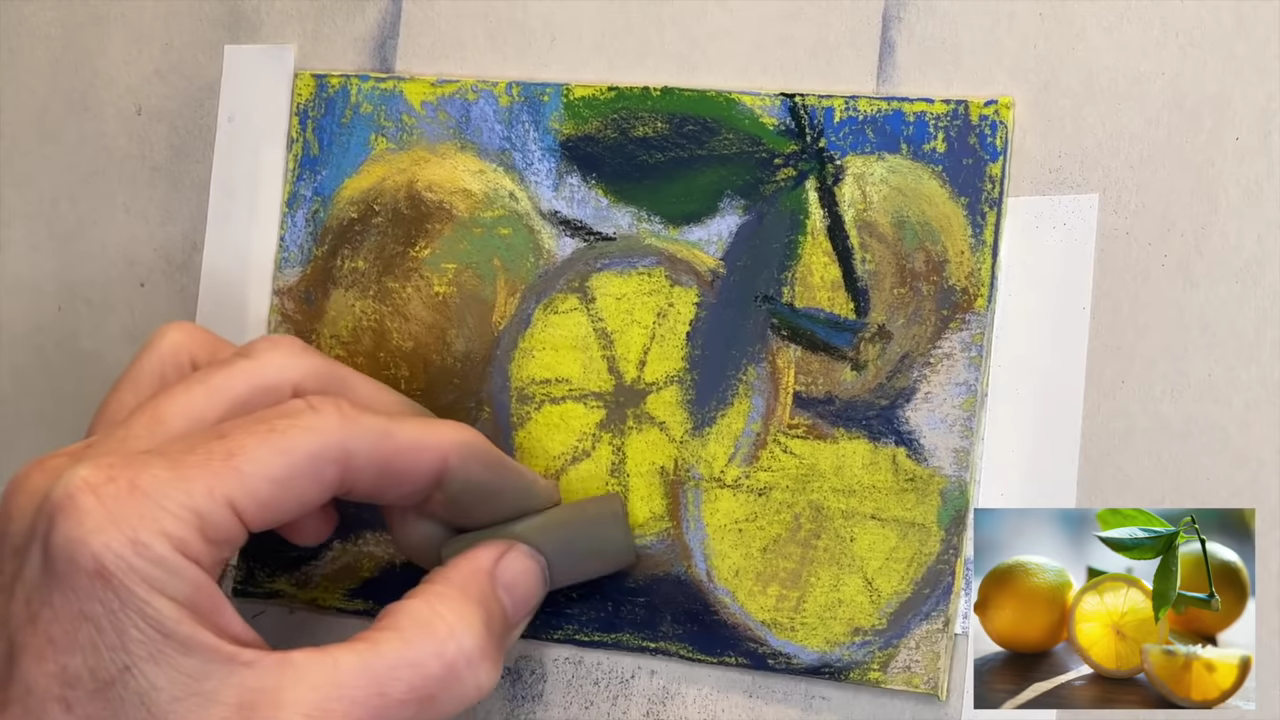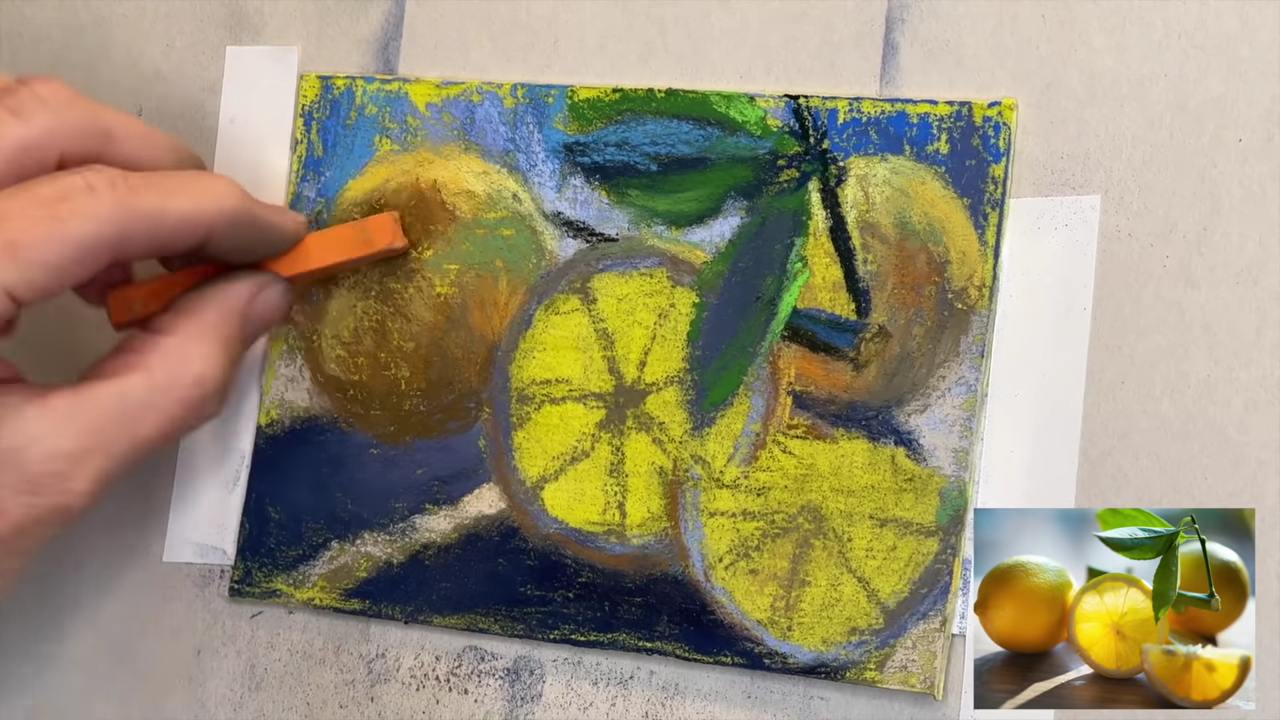 Next, I'll add the small filaments between the lemon slices, and gradually layering more color over the lemons. There was a golden glow to these from the sunlighit so I used some orange color to warm things up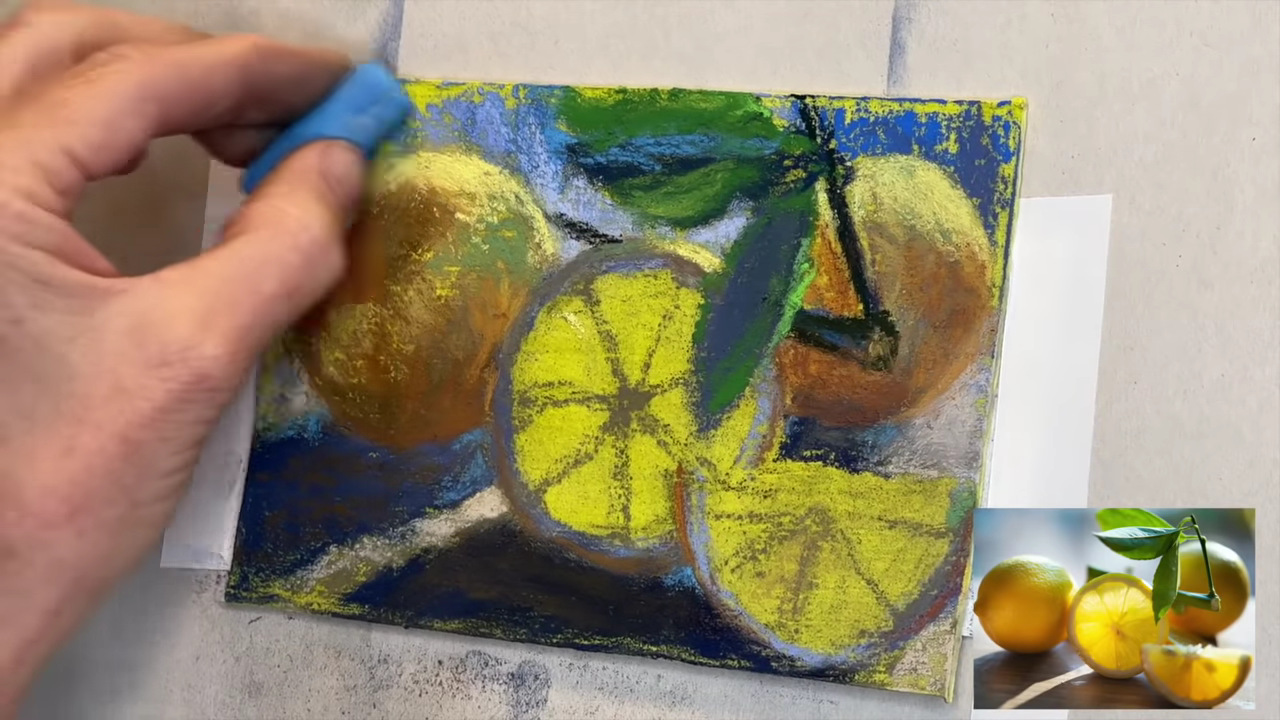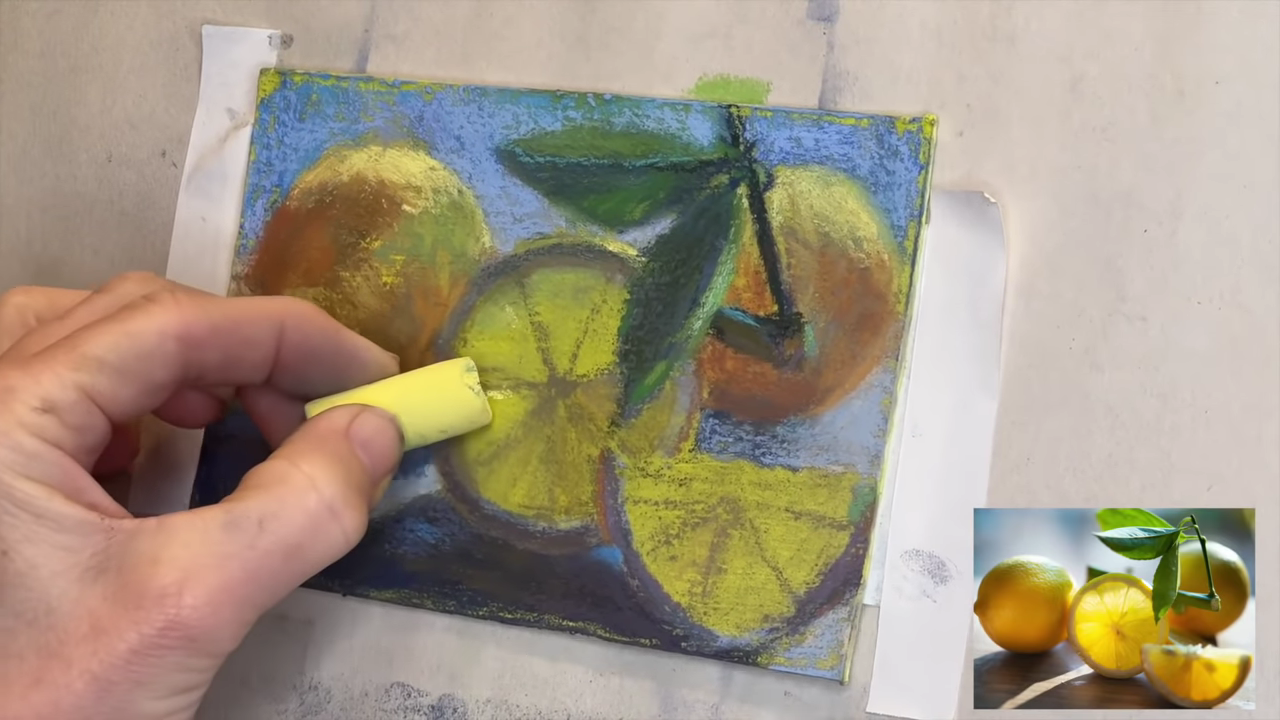 The Focal Point
I'm finally going to get back to work on the central lemon slice. Even though I've kept the original surface's translucency, I want to brighten things up with some of this beautiful sunlight shining through. The Jack Richeson set has some lovely warm yellow colors that I thought were perfect for this painting. I'll use my Prismacolor NuPastels to maneuver in tight spaces and add some texture. Be careful not to overdo it. We don't have to show everyone every bump on the lemon. Simply make a suggestion.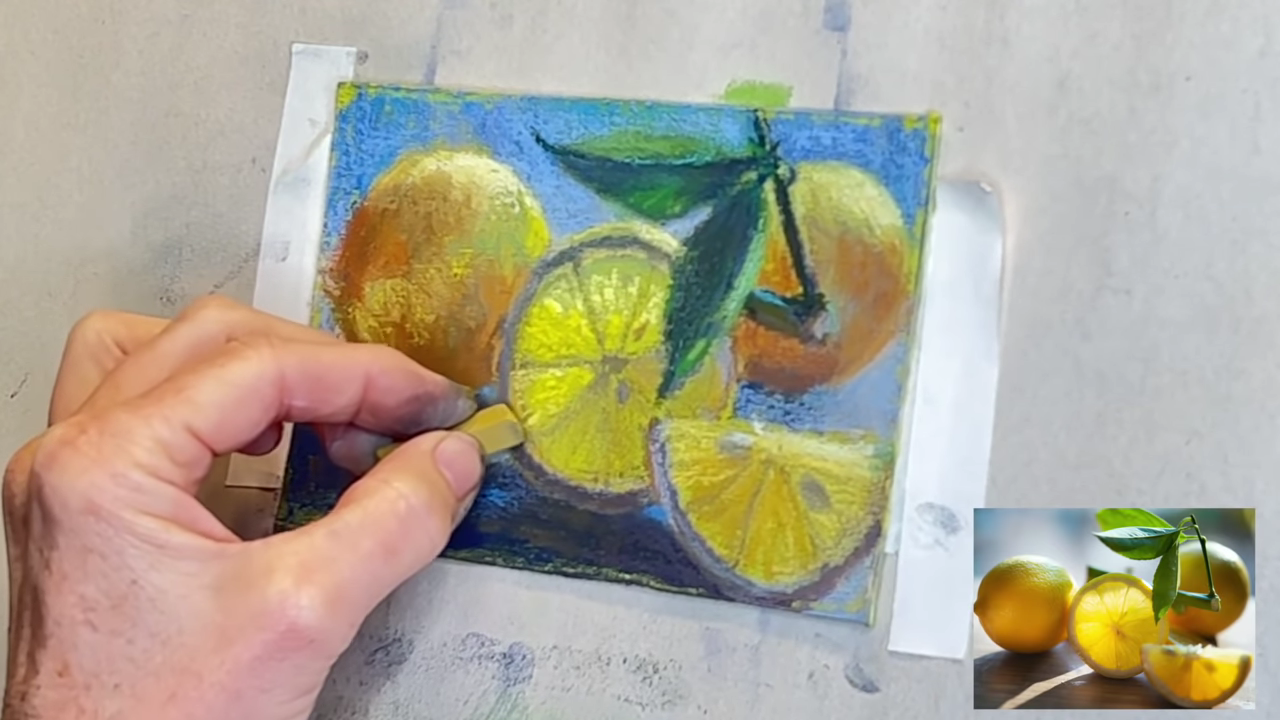 Finally, we can see the light shining through the lemon. I hope I've given you a better understanding of creating light with an opaque medium, such as soft pastels.
If you haven't already, please subscribe to my YouTube channel. If you'd like to help support this channel, consider becoming a patron for $5 per month. Happy painting!
Please consider supporting this channel for only $5 per month to keep these FREE lessons coming. Support me on Patreon: http://www.patreon.com/susanjenkins
How to Make Your Own Boards for Pastel Painting (video lesson): https://youtu.be/lm7V7HYIMU8

Product Review for Jack Richeson Handrolled Pastels / 40 Half Stick Landscape Set - if sold out on Amazon, try www.DickBlick.com: https://www.amazon.com/vdp/03aaa5f409...

Patreon | Etsy | Instagram | Facebook | YouTube

Repurposed by MUNCH